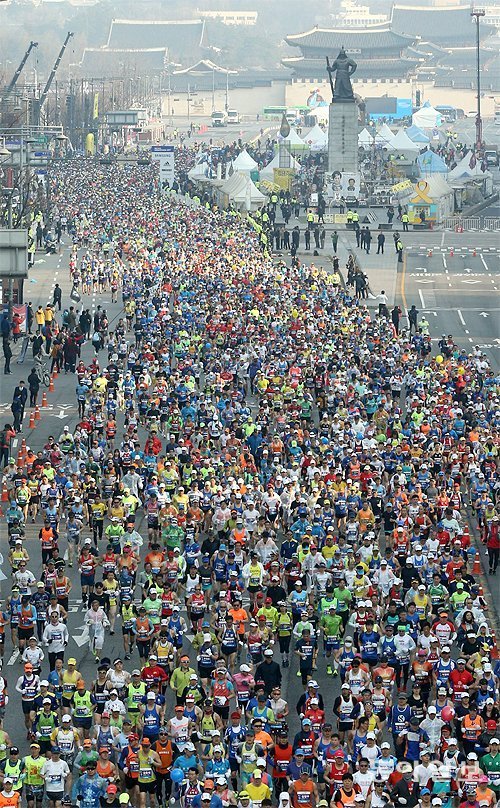 A new hero took the throne at the 2017 Seoul International Marathon (or the 88th Dong-A Marathon) held as the largest of its kind in the history of Korean marathon competition. Amos Kipruto of Kenya was crowned with the laurel of victory when he finished the 42.195-km full-course race starting from Gwanghwamun Plaza to Jamsil Main Stadium on Sunday. While his record did not come close to Korea's and the competition's best at 2:05:13 currently held by Wilson Loyanae Erupe (Cheongyang District Office), Kipruto still placed his name as the fifth fastest marathon runner in Korea.
Erupe who aimed for his third crown came fifth at 2:06:27. On this day, the competition proved itself as the "cradle of records," as four contenders from second-ranked Felix Kandie of Kenya to Erupe all came in within two hours and six minutes at the international men tournament. No international winners at Korean marathon competitions, including Seoul and Gyeongju International Marathons, held in Korea came close to two hours and five or six minutes other than those who ran at Dong-A Marathon. The international women's tournament was won by the Margaret Agai of Kenya who finished at 2:25:52. For domestic records, Yoo Seung-yeop (25, Gangwon Provincial Office, 2:14:01) won his second consecutive gold since last year at the domestic men's, and Kim Seong-eun (28, Samsung Electronics, 2:32:20) who ruled the event for four years since 2014 reclaimed her position in two years.
As the eight-consecutive International Amateur Athletic Federation (IAAF) Gold Label Road Races, around 35,000 masters marathoners including 20,000 (full course, relays included) and 15,000 10-km-course runners participated in the event at Seoul filled with Spring air.
Seung-Kun Lee why@donga.com