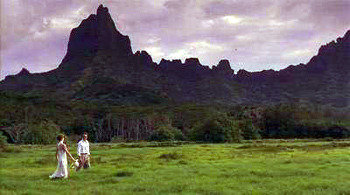 French Polynesia is an archipelago which frequently appears in movies and theater stages.
Love Affair: A passenger plane, which departed from California and is heading to Australia, undergoes turbulence due to rainstorm while flying in the South Pacific skies. The plane eventually made an emergency landing on a deserted island, and passengers are relocated to an adjacent big island on a Russian boat, and treads on an island named Tahiti. A couple falls in love as they sit together. He takes her to his relative living in the Moorea Island; a heaven-like place covered in beautiful meadows. Inside the living room, his relative starts to play the piano – Finding Each Other Again, the original sound track of the movie "Love Affair" composed by Ennio Morricone.
The Hollywood movie starring Annette Bening and Warren Beatty couple follows their walk around the grassland where horses roam freely. Anyone who watched this scene will ask where this scenic meadow between the pikes is located. It is the Moorea Island, 16 kilometers from Tahiti. It is a triangular-shaped island where resorts are lined up along the round-trip coast road. What's more, the calm surface of lagoon, which reminds of a lake lines up numerous bungalows. Indeed, the accommodations present a spectacular feeling that guests own the entire sea by themselves.
Mutiny on the Bounty: In 1787, HMS Bounty led by Captain William Bligh embarked on a voyage from the British Portsmouth Port to Tahiti. Their mission was to dig out Wuru (a tropical fruit which tastes like bread once baked) from Tahiti and transplant in Jamaica, their plantation (giant tropical crop farm) in the Caribbean coast. It was their plan to replace food for their African slaves with this breadfruit, as if the slaves did not deserve a meal. While being a competent Captain, Bligh faced resentment from his crewmen for his violent temper. Eventually, a mutiny on board erupted in Tahiti after two years, and the captain and his followers were roamed out to the open sea on a boat.
The nine rebellions on board could not find a single port to dock, and had to hide in the nearby Pitcairn Islands in 1790. Meanwhile, Captain Bligh finally arrived in Timor with no compass or map, and hopped on the ship headed to England. He came back to Tahiti and fulfilled his mission, while the runaway seamen were forgotten. However, a U.S. whaling ship finds a mysterious island in nowhere on the map 18 years later – the Pitcairn Islands. There, only one seaman called John Adams survived, and the story of mutiny on board became famous again and was recreated into a movie in 1962.
Teti'aroa: As a breathtaking private island 20 minutes away by plane on the northern part of Tahiti, there is a luxury resort called "The Brando" where it charges over 3 million won a day. Indeed, the name came from the actor Malone Brando from the movie "Godfather" is located. The name of the resort came from an interesting story, which is linked to the movie "Mutiny on the Bounty." Brando who played the leader of the uprising fell in love with a native young woman while shooting in Tahiti. Then, the former King of the fallen Pomare family made an offer that Brando will be rewarded with the island as a wedding gift if he marries the native girl. Once a villa owned by the king, the island now belongs to Brando who not only won a beautiful wife, but also gained a fantastic island. Still, he never visited the island again. Now, his wife is running a chalet resort on the island until 2007. Later, the resort revamped with a new investor attracted by Malone's son, renamed as "The Brando."
"The Brando" is the only resort in Teti'aroa, a lagoon island comprising of 12 small and large islands called "Motu" in a band. Facilities including 35 rooms and runway are located only at Motu Onetahi. Located 60 kilometers north from Tahiti, the Teti'aroa is an environment-free lagoon island powered by only clean energy including solar cells and coconut oil. The island is only accessible via a chartered plane, which costs 900 euros (or around 1.1 million won) for two passengers per round-trip. As a super-premium hotel, charges are also jaw-dropping. An all-inclusive package for a double room with dinner, wine, and champagne costs 3,000 euros (or 3.66 million won) a night per person. The resort is currently holding a complimentary chartered plane service until late June.
summer@donga.com