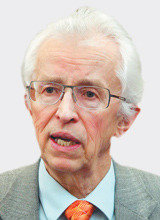 Siegfried Hecker, a senior fellow and affiliated faculty member at Stanford University's Center for International Security and Cooperation (CISAC), said Monday that North Korea may have stockpiled nuclear materials that could be sufficient enough to produce 20 nuclear bombs by the end of 2016, and the nation is capable of developing seven more nuclear weapons a year. Siegfried, who visited the Yongbyon nuclear facility in North Korea in 2006 and 2010, following Pyongyang's invitation, to monitor plutonium reprocessing and uranium centrifuge facilities, is one of the world's top experts on the North Korean nuclear program.
In his writing on the North Korea-focused website "38 North," Siegfried claimed that North Korea may have a stockpile of 32 to 54 kilograms (roughly 6 to 8 bombs' worth) of plutonium now and could produce 6 more kilograms of plutonium (approximately one bomb's worth) per year. He estimated that North Korea could add 150 kilograms of high-enriched uranium (roughly 6 bombs' worth) a year to a current stockpile of 300 to 400 kilograms (roughly 12 to 16 bombs' worth). He said that North Korea's ability to field an ICBM fitted with a nuclear warhead is likely doable in 5 to 10 years if the program is unconstrained.
Siegfried, who has emphasized the use of a dialogue-based solution to North Korean issues, criticized the current situation, saying that North Korea's pronouncements of having achieved a deterrent against the U.S. rang hollow during his first visit to the Yongbyon nuclear facility in 2006 after North Korea's first nuclear test but the death of diplomacy and escalating sanctions by the U.S. and South Korea opened the door to an unrelenting expansion of the North Korea's nuclear weapons program. He recommended that now is a time to use diplomacy instead of increasing sanctions as we cannot rule out that a financially desperate leadership may risk the sale of fissile materials or other nuclear assets to non-state actors or terrorists.
워싱턴=이승헌 특파원ddr@donga.com