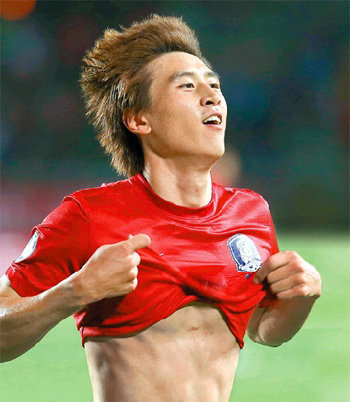 "I don't know why they are trying to link past failures with the current team. We are different (from past teams)."
This is what Korean national soccer team coach Uli Stielike (61) had to tell reporters on Thursday after garnering a landslide 8-0 victory over Laos in the second qualifying match of the 2018 World Cup Russia. He sounded somewhat upset. It was his answer to a question over the team's sluggish performances for some time ahead of an away match against Lebanon (11 p.m. on September 8, Korea time). "Past is past. We have never disappointed fans," Stielike said in displaying confidence to win the upcoming away match against Lebanon.
Lebanon ranks 133rd in the FIFA rankings, which is far lower than Korea (57th). Korea is leading Lebanon by a large margin in past matches with seven wins, two draws and one loss. However, if matches are narrowed to events held in Lebanon, we have a different story. At four away matches held in Lebanon in the past, Korea has posted one win, two draws and one loss. In the most recent three games, Korea had no win, with two draws and one loss. In the third qualifying match for the 2014 World Cup Brazil, Korea lost 1-2, and then coach Cho Kwang-rae had to resign.
In this context, Lee Chung-yong (27, Crystal Palace), who had experience in playing away matches in Lebanon, said, "It is a team that we can adequately defeat, but since we have (bad memories) from matches against Lebanon, we have to thoroughly prepare ourselves." Korea last won an away match against Lebanon in the first qualifying match in May 1993 of the 1994 World Cup in the U.S., when it defeated the Middle East country 1-0. Lebanon has not been strong in home matches against all different teams. In the 29 A matches (nine wins, eight draws and 12 losses) that it played at its home turf since 2011, Lebanon has had more losses than wins. However, Team Korea has struggled in away matches in Lebanon due to rough grass conditions and ill-mannered fans who shoot laser light into the eye of enemy team players.
Of the 23 players on Korea's roster for the upcoming match, six participated in the away match against Lebanon in November 2011. They are Ku Ja-cheol (26), Hong Jeong-ho (26, Augsburg), Kwak Tae-hui (34, Al Hilal), Kim Young-kwon (26, Guangzhou Evergrande), Hong Cheol (25, Suwon), and Ki Sung-yueng (26, Swansea City), who seek revenge for their humiliating loss four years ago.
When Team Korea was criticized for lacking the capacity to score at the East Asian Cup, which ended on August 9, Stielike said, "I expect that the problem will be solved if Son Heung-min or Ku Ja-cheol joins the national team." Son Heung-min (23, Tottenham), who achieved hat trick in the match against Laos on Thursday, is not playing in the match against Lebanon because he has to complete the process to transfer to a new pro team. Instead, Ku Ja-cheol, who did not play in the match against Laos due to transfer to a new team, will join the Korean team on site on Saturday. Ku is the only player who scored goals (two goals) in a match against Lebanon among the players on the current roster.
wing@donga.com