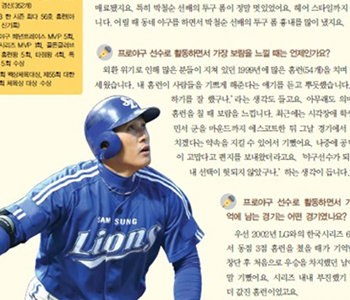 Lee Seung-yeop, nicknamed "national batter" who has continued to set new homer record (390) in Korean professional baseball, has been featured in a middle school textbook. The 39-year-old slugger with the Samsung Lions has been introduced as one of 17 people engaged in various vocations in the 2015 edition of the textbook "Career and Job" published by Samyang Media.
Samyang Media said, "Among more than 20,000 vocations in Korea, we have selected Lee Seung-yeop to present the life of professional baseball players. Through an interview with Lee Seung-yup, who has been loved by fans in all different age groups for a long time, we expect a positive influence on growing teenagers."
In the two-page interview in the textbook, Lee said, "When my friends picked scientist, teacher, medical doctor, and the president for their future dreams, I said baseball player was my dream. It is okay even if it is not baseball. I want to tell you to seek a life in which you can enjoy sports rather than being obsessed with study." When presenting his personal motto, Lee said, "Faithful efforts will never betray you. Never be disappointed or discouraged. Do your best, and you can achieve good outcome."
Lee expressed his feelings, saying, "I can hardly believe that I have been introduced in a textbook. To not be ashamed of myself, I will continue working hard in baseball."
uni@donga.com