S. Korean, Chinese leaders keep Japan in check over history issues
S. Korean, Chinese leaders keep Japan in check over history issues
Posted March. 25, 2014 04:51,
Updated January. 01, 1970 09:00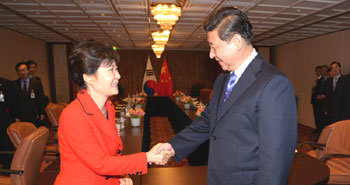 South Korean President Park Geun-hye shakes hands with Chinese President Xi Jinping (right) after a meeting in The Hague on Sunday. The two leaders met for about an hour from 8:40 p.m. at a hotel where the Chinese leader was staying. The two leaders kept Japan in check by talking about Korean independence fighters against Japan`s colonial rule ahead of the March 25 trilateral summit among South Korea, the United States and Japan.