Preparing reunions of separated families
Preparing reunions of separated families
Posted January. 27, 2014 01:55,
Updated January. 01, 1970 09:00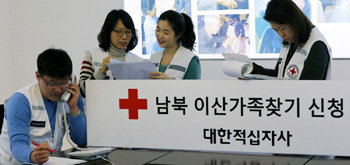 Families separated by the division of two Koreas feel hopeful again since North Korea finally agreed Friday on South Korea's proposal for the reunions of separated families. Employees of the Red Cross in Seoul are busy on Sunday responding to inquiries over the phone and preparing for the reunion.