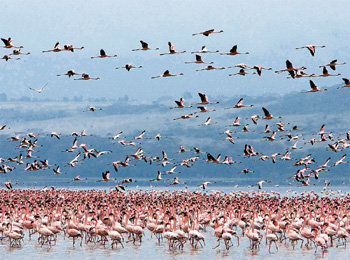 Walking lightly with slim and long legs, taking one step ahead and another backward
and gently fluttering the pink wings.
The elegance is not that of a beautiful lady, but that of a flamingos, the most beautiful birds in the world.
I am at the Nakuru National Park in Kenya, the paradise for 1.5 million flamingos.
As I take off on a light airplane as if a hero in a movie, thousands of flamingos soar together, like the scene of a movie I cherish in my heart.
The birds lift their pink feathers upward, looking around as if surprised by someone`s presence. Keeping the elegance of a noble lady, a flock of flamingos embark on a beautiful flight in an orderly fashion.
In an instant, the green Nakuru Lake gets dyed with pink ink.
Like the flamingos launching a splendid flight signaling the beginning of a new hope, let`s all spread our hunkered crouched shoulders.
At the Nakuru National Park in Kenya