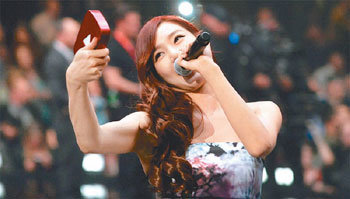 The K-pop group Girls' Generation was among the big winners on the inaugural YouTube Music Awards that was live-streamed from Pier 36 on Manhattan`s lower East Side in New York.
Girls' Generation scored the "Video of the Year" with "I Got a Boy," a title song of its fourth album. The group beat out the likes of Lady Gaga, Justin Bieber, One Direction, Miley Cyrus, and its compatriot Psy to win the top YouTube Music Awards as the first Asian singer.
Tiffany Hwang accepted the award on behalf of her team who did not expect the win. She said in English, "This award would have been impossible without our fans. Enjoy this moment." She added in Korean, "It's Girls' Generation!"
At the first YouTube Music Award ceremony, musicians and visitors enjoyed music and dance as if they were at a club. Six awards were given at the award ceremony, while rapper Eminem was awarded as the "Artist of the Year." Candidates and winners were voted by fans.