Campaigning before Chuseok holidays
Campaigning before Chuseok holidays
Posted September. 29, 2012 04:53,
Updated January. 01, 1970 09:00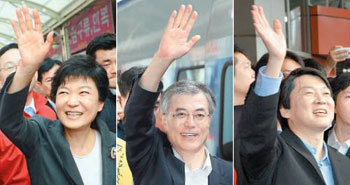 Presidential candidates go stumping Friday ahead of an expected massive shift of public sentiment over the Chuseok (Korean Thanksgiving) holidays Saturday through Monday. Ruling Saenuri Party candidate Park Geun-hye (from left) visits Seomun Market to campaign in Daegu's Jung district; main opposition Democratic United Party candidate Moon Jae-in greets people at Daejeon Station; and independent candidate Ahn Cheol-soo speaks to people heading for their hometowns at Express Bus Terminal in southern Seoul.
zoo@donga.com