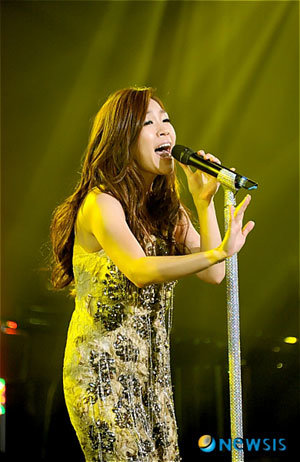 "I burst into tears after trying not to cry throughout the day. The song originally sung by the group Deulgukhwa (Wild Chrysanthemum) I sang that day is a song that should be sung in a cheerful and energetic manner. I spoke of what I felt while continuously crying, and the footage was all included in the show."
Lena Park recalled her last performance in the reality music competition show "I'm a Singer" on MBC TV, as if she was daydreaming. The 35-year-old singer revived her musical career through the show for the first time since her debut 14 years ago.
She won the first episode of the seven-singer program on March 14 by singing her own song "In My Dream" by banking on her robust vocal ability stemming from her small stature (4-feet-11 or 150 centimeters tall).
Park also ranked first in her last performance on the show, which aired Aug. 14, and received the "honor of completion" along with singer Kim Beom-soo.
Throughout her appearances in the show, she earned the nickname "Fairy of Naneun Gasuda (Nagasu)," and added the titles "Nagasu Queen" and "Nagasu Honor Student." Thanks to her newfound popularity stemming from her success on the show, she appears in commercials of a cosmetics company, a dream most female entertainers cherish, and of a financial product, a privilege only elite celebrities have enjoyed.
Park has sung 14 songs over the past five months. What she remembers as her favorite among them was "If I Leave" sung by prima donna soprano Jo Su-mi. Audience judges of the TV show in that episode ranked Park first, with one saying, "It was like a beautiful drama," almost bursting into tears.
Park said, "I focused on singing techniques in the first verse, but fully engaged myself in my singing from the second. I almost cried in the ending," adding, "After finishing the song, I commended myself because I wondered (how I could sing so well)," bracing her own body and patting on her left shoulder with her right hand.
Born in Los Angeles, Park wanted to become an entertainer since a young age. Because she thought that becoming a star was an impractical dream, however, she sought opportunities while studying to sing and act in musicals, which integrate singing and acting.
While a student at the dramatic arts department of UCLA, she transferred to the creative writing department at Columbia University in 2001 in distancing herself from her dream. One day, however, a Korean music producer proposed that she produce a music album.
"I was trying to find an exchange student program because I wanted to learn the Korean language. At that moment, a great opportunity came to me: performing music and learning Korean at once. Simply put, I thought it was an adventure," Park said.
Her career as a professional singer, which she started without knowing much about Korean society, was truly an adventure. She initially underwent a period when she had to stay in a tiny cubicle-like dormitory due to a sloppy contract she signed with her management agency.
She has since matured musically, however, while producing as many as seven albums, the first being "Piece" and the seventh "Ten Ways to Say I Love You." It was extremely challenging, however, for her to endure the demise of the music album market.
Then came "I Am a Singer." Now her every move, big or small, makes headlines in Korea, including news that she sang the American national anthem in last year`s commencement ceremony at Columbia University and joined Phi Beta Kappa, a club of gifted students in the U.S.
All this fuss has resulted in a heavy burden for her at a time when she is also preparing her eighth album.
"I`ll do just as I have been doing. I think my eighth album is a chapter in a larger book titled `Lena Park`s Music.` If people are curious to know what`s the next chapter whenever I produce a new album, I`d be fully satisfied with it," Park said.
kej09@donga.com