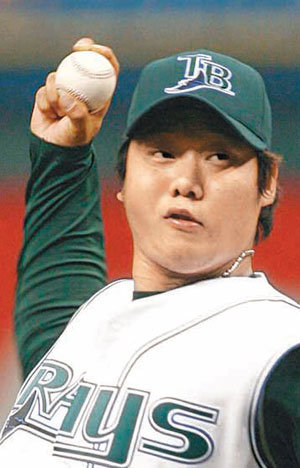 "I want to be like Park Chan-ho."
Tampa Bay Devil Rays pitcher Ryu Jae-kuk (photo) says his hero is Los Angeles Dodgers hurler Park Chan-ho, who is 113-88 in Major League Baseball.
Ryu joined the Chicago Cubs in 2001 after signing a deal worth 1.6 million U.S. dollars, the highest for a Korean pitcher straight out of high school. He proved to be a bust, as he was sent back to the minors almost immediately afterwards.
Ryu's record last year was 1-2 with an earned-run average of 7.33.
In his first exhibition game this year, however, the pitcher shined against the Pittsburgh Pirates Sunday. As the fourth pitcher, he struck out two and allowed hits without giving up a run in two innings.
Ryu took the mound in the fifth inning with his team leading 4-1, and got all three batters out. In the sixth, his crisis management was impressive. After allowing two hits by Ronny Paulino and George Wilson, he struck out Kevin Thomson with runners on first and second.
Of his 21 pitches, 14 were strikes. In the game, he used the two seam fastball he has practiced since spring camp as his money pitch. Over the two innings, he got three of the six outs by forcing infield grounders.
His good performance is raising the possibility that he will make the 25-man roster of a U.S. team.
Ryu has also agreed to a split contract this year. He will be paid 410,000 dollars, including his basic annual salary of 396,000 dollars, if he plays in the majors. He will earn just 106,000 dollars, however, if he returns to the minors.
beetlez@donga.com beetlez@donga.com