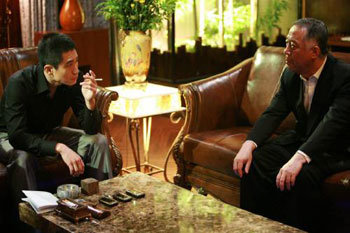 Kang Roh-sik is an affluent man who has only a few days to live. Min Hee-do is a healthy but poor artist.
One character longs for youth while the other financial gain, so they make a bet. By making random phone calls, Hee-do can win three billion won from Roh-sik if the person who receives the call is female or vice versa.
The artist loses his youth when the call receiver is a transgender. The assistance of female character Hye-rin, however, who is eyeing Kang's wealth, makes the story extremely enigmatic.
"The Devil's Game" is based on the Japanese cartoon "Change. The lucid storyline makes it easier for the director to convey a message and sensitivity to audiences.
"Once the film starts, audiences will be engrossed in the story and the running time of two hours will pass in no time," said Park Chang-hyeon of the production company Boogui Film.
The unique story, tear-jerking scenes and impeccably fine performances by the cast are sure to attract fans of thriller movies. The ambiguous ending also leaves audiences to guess the result of the game.
As a doctor says in the movie, the game itself is unfair because betting three billion won on a person's body makes no sense. The movie tacitly censures the paradox of democratic and unfair relations.
The bet as a plot element, however, is not persuasive enough and the disappearance and unclear role of Hye-rin towards the end raises unanswered questions.
The movie is scheduled to be released Thursday and is rated for ages 15 or over.
polaris@donga.com