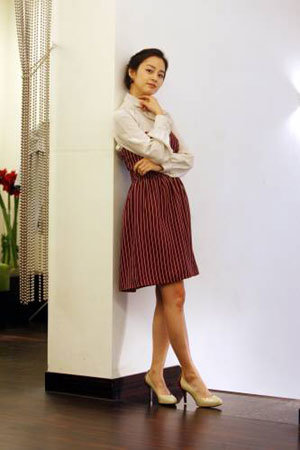 I've met many actresses in my day, but I must say Kim Tae-hee tops them all. She resembles a porcelain doll come to life.
She rose as the advertising model queen with her looks, but her acting skills took a harsh beating from critics after her first big screen movie The Restless was released last year. Now, her second movie, Ssaum, will be released on December 13. It's about a post-divorce battle between cowardly neat-freak Sang-min (Seol Gyeong-gu) who never says sorry, and fierce-tempered Jina (Kim Tae-hee). Kicking and screaming, Kim goes around with runny mascara eyes wielding a steel pipe, but everybody agrees, she was still very much the pretty face in the film. This may or may not be a compliment.
At any rate, Kim has bared her ambitions to the Korean film-going audience, and the stakes for her are higher than ever before.
Did you originally intend to be a messy person in the film?-
"I know that people want me to look messy. If I did this movie for that reason, however, it would only be playing a messy person for the sake of looking like a mess. That's not what I want. Actually, I didn't realize that I looked like a mess. I didn't look pretty in this movie, and people who are sick of me appearing made up might like that. Others may be disappointed."
Have you seen director Han Ji-seung's television drama Yeonae? Some are disappointed by the lack of emotional depiction that has become his trademark-
"I've seen it. Yeonae is a melodrama where the characters broke up because of their child, but in this movie, the man and woman feel nothing but hate for each other. Everybody has one of those experiences where 'I can't live without you' sours into 'I can't live with you.'"
Have you experienced that?-
"I've never experienced becoming disillusioned by marriage and living a grubby existence, but I loved my ex-boyfriend; when we broke up I was torn, though I gradually forgot the pain with time. People are like that. They change."
Which scene was the most emotionally taxing for you?-
"Toward the end of the movie, Jina gets emotional when she cries, 'I don't want to regret divorce.' That's my favorite scene."
Is fighting a part of loving, like the director tried to express?-
"Yes. Honestly, hate drains you of energy. Hate means you still have feelings for that person. There comes a point where there isn't any energy to drain."
What's fighting like for you?-
"When someone did me wrong and I'm angry, I cry and sputter, but I usually let it all out, even if it's my loss."
You've said you were an introverted child?-
"When I was little, I didn't cry at sad movies and I didn't laugh even when I was happy. Even my college friends are surprised to see me sing and dance at my fan get-togethers. I thought it was becoming an acting impediment, so I let my emotions show and my moods swing as a result."
How did you feel about the harsh criticism towards your acting skills in The Restless?-
"I did see some points being made in their criticisms, which was hurtful. At that time I didn't think my acting was lacking. But now I know. Acting isn't all about being genuine."
I've always wondered. With your looks and brains, you could have been complimented all your life, but you chose to become an actress and criticized in the public eye. Have you regretted your decision?-
"Before I was in the business, I was conflicted a lot. After a lot of thinking, I thought that I would regret it if I lost this opportunity and I jumped in without much preparation. I thought I would find my answer somewhere along the road. Now I think I'm really fortunate to be able to act. I get bruised, but I'm more understanding now and my life's been enriched."
yourcat@donga.com