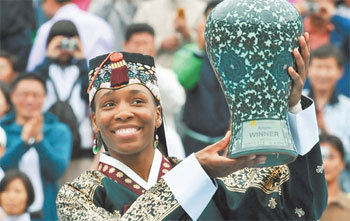 World tennis star Venus Williams proudly held up her blue porcelain trophy adorned in a Korean traditional "hanbok" outfit. Her path to victory was filled with tense moments and loud support from her Korean fans.
The singles final of the fourth Korea Open, the only professional tennis tour for women (WTA) in Korea, came to an end on Sunday at Seoul's Olympic tennis court complex.
Williams, with six major competition titles, including this year's Wimbledon championship, and ranking ninth in the WTA Tour rankings, defeated 20-year-old Russian tennis darling Maria Kirilenko in a match lasting two hours and 21 minutes. With powerful strokes, Williams won 6-3, 1-6, 6-4 over Kirilenko, who is ranked 29th in the world. Sunday's victory was the 36th tourney win of her tennis career.
On her way to the finals, Williams shone on the court, winning all her sets. However, Kirilenko was no easy match and showed off various shots and serves, including topspins and slices. In the end, Williams gave away the second set.
In the third set, her strokes gained their usual strength, cutting into the right and left corners. After breaking Kirilenko's serve, Williams drove on without a stop all the way to the end.
With the win, Williams added another glorious memory in Korea following her victory in an exhibition match against Russian tennis superstar Maria Sharapova in 2005 when Williams first visited Korea.
In the award ceremony, Williams beamed in a beautiful Korean traditional "hanbok" outfit, given to her as a gift. The garment is worth three million won. Together with Kirilenko, who also wore a traditional dress, the tennis star basked in the spotlight on the court.
Williams, who enjoyed Korean barbecue and soju (Korean alcohol) two years ago, said: "I was moved by the enthusiastic support of my Korean fans. I want to have Korean barbecue tonight and go to amusement parks and karaoke."
Although the game began an hour and 15 minutes later than scheduled due to the weather, almost 6,000 fans came and turned up the heat. Some well-known Korean figures, including Lee Jae-yong, the managing director of Samsung Electronics, and news anchor Son Bum-soo and his family attended the match.
kjs0123@donga.com