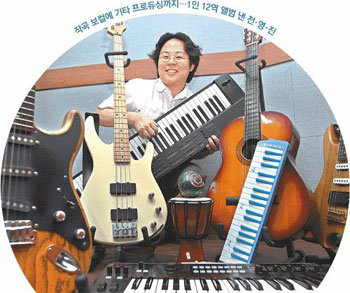 In the tiny office of singer Jeon Yeong-jin, located in Apgujeong-dong, Seoul, an area of less than 10 square meters, drums and a synthesizer emerge from the virtual world as he turns on his two computer monitors. Following an impressive base guitar performance, he strikes his computer keyboard, creating a wonderful melody.
Jeon Young-jin, also known as the one-man band Ermanno, recently released his debut album, 'All-in-One.' He is a composer, songwriter, arranger, vocalist, chorus singer, guitarist, keyboard player, audio engineer and producer. Except for the cover design, every aspect of the album was personally made by Jeon. 'Written, composed, vocals, performed by Jeon Yeong-jin,' reads the back of his debut album.
From the Hongdae Indie Band 'Moonlight, A Fairy, A Turnabout, A Grand Slam,' that became a one-man in order to cut costs to the much-talked about band 'All-lies-band' that rose to stardom by appearing on the entertainment show 'The Knee God,' one-man-bands are now stealing the limelight of the K-pop scene from singer/song-writers. Although the early one-man bands such as Kim Soo-cheol played all the instruments, the situation has changed. These days, one-man-bands, such as Jeon, do all the music related work, including recording and audio engineering by themselves with the help of computer media systems. One advantage of such new one-man bands is that they can reduce the costs of producing an album which otherwise entails high risks and high capital.
"It usually costs about $65,000 to $110,000 to make an album. But there is absolutely no guarantee of success. I do all the work myself because it costs less than one tenth of the normal amount, though the quality of music might be of poorer quality," said Lee Jin-won of 'Moonlight, A Fairy, A Turnabout, A Grand Slam.'
He marks the number on each CD if he orders less than 1,000 copies for an album. He sells his albums through his personal website and personally sends them by courier to online buyers because he cannot afford the services of distribution companies. Otherwise, he cannot make profits. Having already released three studio albums, he recently announced his first single.
Above all, one of the greatest merits of one-man-bands is that they put as much creative energy as they want into their album without having to be swayed by producers.
"If you were to add the arms of Tiger Woods to the legs of Ronaldo Lima, it would never work, because they would lack an organic connection. Songs are often made differently from producers' intentions, even if they hire the best musicians. However, I can synchronize all the processes, including song writing, instrument playing and singing, from an artist's point of view. Of course, it takes less time to produce an album, as well," Jeon said.
"There is a possibility that the one-man-band trend will become the new way of producing mainstream music because musicians can produce songs as creatively as possible without having to compromise," said music critic Park Eun-seok.
Although it is commonly known that people in the creative business live a lonely life, making music is fundamentally the work of a group. Some say that rookie one-man bands that rely on machines without having the ability to play instruments lack what it takes to be a true band. "The basic requirement for a one-man band is whether the artist can play all the instruments himself. I doubt whether music which is made by machine should be called band music."
salthj@donga.com