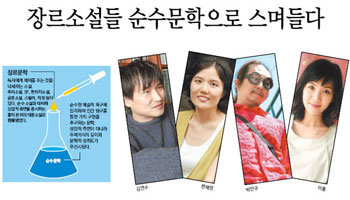 The novel "All Together As One," written by Kim Yeon-soo (37) and slated to be published in September, is about a college student who took off to Germany to find a person he promised to meet. The story unfolds as the personal lives of each character link like a puzzle- the college student, the girlfriend, the grandfather, and the person to be met. It is a novel that involves exquisite guesswork to unravel a set of questions.
Kim says, "As for the narration, I thought that a mystery novel format would be useful in getting readers to be curious about the next page."
Mystery novels, science fiction, fantasy, chick-lit, horror stories, and others are all categorized as "genre literature." Previously considered popular novels for pleasure reading, they were classified as non-mainstream, but recently they have been mixing with pure fiction. It is because young writers have employed characteristics of genre literature to their pieces.
What is striking is the connection with science fiction and fantasy novels. Park Min-gyu (39) showed his exorbitant imagination in his short novel "Gip," set in the year 2487, in his novel "Ping-pong," and compilation of short stories titled "Custard."
Yoon I-hyeong (32) has a cyborg walk around in his short story "Ivan," while Kim Jung-hyeok (36) has a "[Music] Beat Emancipation Movement" going on in a fantasy world in his book of short stories titled "Penguin News."
They are contrivances that are apt to appear in science fiction novels. In fact, in the May issue of the genre literature magazine "Fantastique," pure fiction novelists like Bok Geo-il, Park Min-gyu, Park Hyeong-seo, and others have published pieces with a strong streak of science or fantasy in them. Considering the previous atmosphere of holding genre literature in disdain, it is indeed a big change.
This year's "Writer of Today Award" winner Lee Hong (29) wrote "Girlfriends," a Korean-type "chick-lit" piece. As "chick-lit" generally refers to novels that young women read for fun, the award was especially surprising.
Published last month, "Toward the Breeding Farm" by Pyeon Hye-yeong (35) is similar to a horror story. The title piece begins with the character moving to a peaceful residential area for a comfortable life, and hearing the blood-curdling howling of dogs, and was reviewed by critic Shin Hyeong-cheol as, "Horrifying when the familiar every day transforms into strange nightmares." This is what horror fiction novelist Steven King strives to do, draw out the terror when the familiar transforms into the strange.
Critic Kang Yoo-jeong analyzed this trend as writers trying out various experiments in an era without any substantial discourse on societal issues.
Kang explained, "Genre literature involves the writers in making a problem and solving it. After 2000, societal discourse disappeared and pure fiction writers took to finding their own problems, naturally leading to a connection with genre literature."
Critic Kim Dong-shik also says, "After the era of political oppression, writers found the basis of their identities in culture, instead of nation or family. Genre literature is still technically a part of literature, and it is a natural phenomenon for pure fiction writers to write on the basis of literary susceptibility after 2000."
Meanwhile, in the Korean literary circles, some say that as the desire to write creative novels has increased, so has the efforts to introduce various genre-like contrivances to enhance the solidity of plots.
Science fiction critic Park Sang-joon says, "It can be seen as mainstream literature trying to incorporate the rhythm and easy-reading plot characteristics of popular novels. It is creative writing that is conscious of readers' familiarity to motion pictures rather than the written word."
kimjy@donga.com