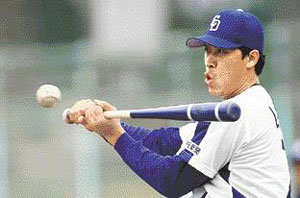 When Lee Byung-kyu's (32) transfer to the Chunichi Dragons in the Japanese League was finalized, Lee Seung-yeop (31, Yomiuri Giants) said, "Byung-kyu has so much nerve that he might even to pat his manager Ochiai on the rear."
Chunichi manager Hiromitsu Ochiai, 54, was a maverick when he was an active player. He still is as a coach. One of the terms that best describes him is "oreryu," which means "going my way." He does what he needs to do regardless of what others say.
As he did for himself, the Dragons' manager allows Lee Byung-kyu to stick to his own style. The trust he places in Lee's seemingly odd batting posture is just a typical example.
Ever since rumors spread that Lee was going to leave for Japan, many pointed out that his hitting stance had a critical flaw. They argued that Lee tends to incline forward at the plate, which could be trouble for him when he contends with Japanese pitchers, who are generally good at throwing breaking balls. Many baseball experts, including the manager of the SK Wyverns Kim Seong-geun, who is well versed in Japanese baseball, brought up this matter.
Nevertheless, Lee Byung-kyu is still training in the same stance that he was used to in Korea. "Ochiai hasn't said a word concerning my batting posture and neither did other coaching staff members. He even says that I'll get good results if I do things the way I did in Korea," Lee Byung-kyu said, ahead of the exhibition game against Softbank Hawks at the Fukuoka Yahoo! Japan Dome on March 1.
Indeed, it is true that few people have more say than Ochiai when it comes to matters of batting posture. When active, he had had a particular golf-style upswing that he used at the plate. After he moved to Lotte in 1979, Yamauchi Kazuhiro, the team's manager then, told him, "You can never have success with such a swing." Ochiai was also criticized by the legendary 400-game winner Masaichi Kaneda (Korean name: Kim Jeon-il).
However, Jang Hun (Japanese name: Isao Harimoto) appreciated his skills when he joined Lotte in 1980. Jang advised him, saying, "Your stance is good enough to work the way it is." Ochiai eventually stood out prominently with a lifetime batting average of .311 and 510 home runs. When giving interviews, he occasionally gave warnings to children, saying, "Please don't try to imitate my posture."
Thus far, Lee and his manager seem to be in perfect tune with each other. "The manager told me that he would offer me many chances. I'm exerting myself to adapt here as soon as possible so that I can fulfill his expectations," the Korean hitter said.
uni@donga.com