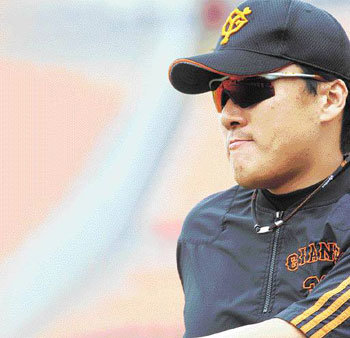 There are two players who embody the "challenging spirit."
The first player is "lonely challenger" Choi Hyang-nam (35, Cleveland). At a relatively older age, Choi went to the U.S. in the hopes of becoming a Major Leaguer. Although Choi hasn't made it yet, he played brilliantly on his team, the Triple-A Buffalo Bisons, with eight wins and five losses and 2.37 ERA. Choi will, once again, try to move up to the Major Leagues next season.
Yomiuri's cleanup man Lee Seung-yeop (30, photo) is another formidable challenger for the Major Leagues. Lee has always said that is his ultimate goal.
Overcoming Weakness-
Lee chose to play for Chiba Lotte Marines in Japan as an interim team after failing to reach a deal with any of the Major League teams after the 2003 season. This year, three years into his life in Japan, Lee moved to Yomiuri and is a step closer to becoming a Major Leaguer, leading the home run race with 40 as of September 20.
There is no doubt about his talent which he showed in Korea and Japan. However, there are lingering concerns among fans whether he could be as successful as he has been in the two countries.
Regarding these doubts, Choi, who experienced American baseball for one year, though not in the big leagues, clearly expressed his thoughts. Choi noted that Lee would no doubt succeed.
Choi, now in Korea for a break, said, "When I played baseball in Korea, the most feared batter was Yang Jun-hyuk, not Lee Seung-yeop. And yet, I could feel inexplicable growth potential in him. Whenever I see Lee playing on TV, I can really see that he has upgraded a notch."
Lee showed weakness from the eyes of Choi. His weak point was the fastball and breaking balls. One of the reasons Lee had a hard time in 2004, his first year in Japan, was because Japanese pitchers obstinately targeted his weak spots.
Lee Could Benefit from American Umpires-
Choi forecasted, "However, Lee overcame his weakness in just a few years. Besides, Lee is already good at hitting outside pitches. The strike zone of American baseball is tight inside but is lenient outside. If Lee plays in the U.S., it will be more favorable to him." Choi also noted, "I usually believe my hunches, and I believe that Lee will improve more in the U.S. Lee is perfect in terms of speed, power, flexibility, and stringent self management. Even If I pitch against him again, I don't think I will do well."
Could these two challengers have an exciting game together in the Major Leagues next season?
uni@donga.com