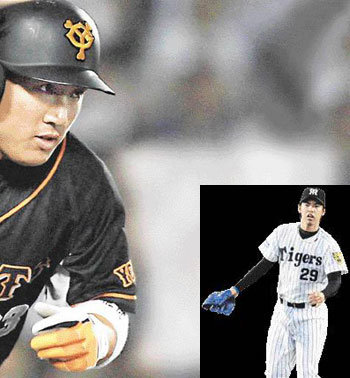 The lefty pitcher for Hanshin, Kei Igawa (age: 27), is well known to Korean fans for two reasons.
He is known for his wild and widely broadcasted antics. Igawa, a computer game and animation maniac, missed the championship ceremony because he was watching an animation cartoon. The day after he missed a TV animation broadcast of "Case Closed: Detective Boy Conan" because of a prolonged game, he came back the next day to pitch a shutout in revenge.
The reason he became a professional baseball player in the first place was to see his name in baseball computer games. One day he heard his little brother say, "I use Daisuke Matsuzaka (Seibu) instead of Igawa. His ability is set higher." After hearing this, he trained hard to become the team ace that he is today.
He also was treated to 100 dishes of sushi after begging "the oddball player" Tsuyoshi Shinjo (Nippon Ham).
The second reason for being famous to Korean fans is his special relationship with Lee Seung-yeop (age: 30, Yomiuri). This year alone, Igawa gave away five homeruns to Lee. Of the 15 homeruns he gave away, one third of it was to Lee. During the first game of the Japan Series against Lotte, Igawa gave away a homerun to Lee.
"Antic boy" Igawa often posts messages on his homepage. Recently, he has been writing about "Nice guy" Lee in his on-line diary.
He did so after giving away Lee's game-winning 400th homerun (Korean Baseball League and Japanese Baseball League stats combined) on August 1 and again after giving away the season's 38th and 39th homerun on September 7th.
On August 3, he wrote, " The homerun (400th) in the first inning was a mistake. When I met him again in the ninth, I wanted to overpower him. I threw a tight fastball at three balls, one strike. I gave up another homer. I do not regret my decision though."
He lost again when he met Lee on September 7. Igawa wrote, "I tried to beat Lee with an outside slider, because the last two fastballs I threw to Lee ended up being homeruns. I thought the slider I threw at the second inning could only have been a single at best. It ended up being a homerun. I threw another outside slider in the fourth. It became another homerun."
Igawa admitted his defeat. He wrote, "I knew the moment the bat met the ball, which Lee was waiting for a slider. It was as if he had anticipated the slider from the start."
Although his trademark is his naïve appearance, Lee has been skilled at anticipating the pitches. He had a tough time his first year in Japan, but now in his third year, he has mastered the Japanese pitchers' routines. Of the first pitches he hit, he currently holds a batting average of 0.517 (30 hits from 58 at-bats) and 12 homeruns.
uni@donga.com