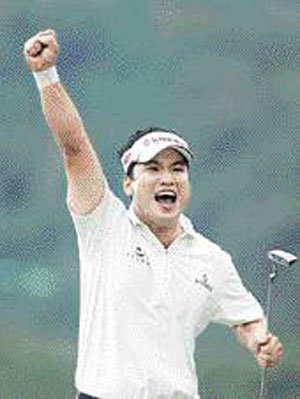 It was at the 18th hole (Par 4). Kang Ji-man (Age 30, Donga membership) who was the co-leader, hit his second shot to a place three meters from the cup, and powerfully raised his right hand up almost as if to confirm his victory. Kang, who had been sure of his win, successfully made a birdie putt without any hesitation. It was the moment that he made his first victory, at the age of 30, after joining the pros in 1999.
It happened at the final fourth round of the 22nd Shinhan Donghae Open Golf Championship held at the south course (Par 72) of Gyeonggi Yongin Lakeside CC on September 3. Kang Ji-man made up for six shots by making six birdies and recording a total of 19 under-par, 269 shots, defeating last year's U.S. Open Champion Michael Campbell (New Zealand) by one shot. Kang, who broke the championship record for the lowest shots (16 under-par), received a reward of KRW120 million, which made him jump from 26th place to third place (KRW145,752,750) in the prize money rankings.
Kang, despite his relatively short height of 173cm, is known to be excellent at long-distance shots, coming in first place for the longest driving distance (295.6 yards) in the first half of this year, and also has a good sense of putting. He said, "I had a lot of hard times in the past seven years, and because I was a player who had no wins I didn't receive recognition anywhere, so I'm really happy right now."
Last year's runner-up, Choi Kyung-ju (Nike Golf) shortened seven shots and landed in a tie for third place (17-under-par 271). Choi will add more to his prize money of KRW35 million and give it as a donation to flood victims in Inje-gun, Gangwon.
Kang Ji-man did not have good results on the professional stage and two years ago, due to financial difficulties, he had thought of giving up golf. But with the help of those around him he held the club once again, and recently reading some books about golf psychology, he fixed his weak point, which was mental power. After receiving the advice, "If you keep knocking, the door will open," from Choi Kyung-ju, who played the third round together with him, Kang Ji-man has finally opened the door to victory at his 68th tournament game.
kjs0123@donga.com