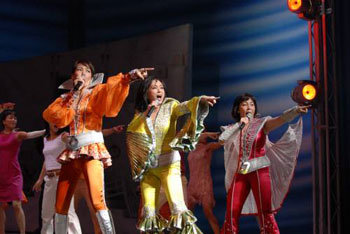 There is one musical gathering rave reviews in the torrent of big-scale musicals this summer, and that is "Mamma Mia!"
Mamma Mia currently ranks as the number one most-reserved musical on the two biggest booking sites, Ticketlink and Interpark.
Because of the World Cup event, hurricanes, monsoon season and summer vacation, the performance sector has been experiencing hard times, but Mamma Mia! is becoming a smash hit, selling 2,000 tickets a day. From August to the first week of September, four rounds of matinee performances every Thursday (except August 17) have been added to the schedule.
The plot of Mamma Mia! is easy. Sophie, who grew up with her mother and never knew her father, is looking for three "daddy" candidates for her upcoming wedding, and the mishaps begin. What's become the fuel behind Mamma Mia's success is the songs of ABBA. There are 22 ABBA hits melded into the scenes, such as "Mamma Mia"; "Dancing Queen"; and "Winner Takes It All," and has received reviews that called it a "compilation musical."
Thanks to these treasured songs, the audience spans various age groups, starting with women in their twenties to middle-aged ABBA fans. If you go to the auditorium, you'll find that the male-female ratio is equal and the gray-haired elderly are also visible in the audience.
Another feature is the encores, which consist of three hit ABBA singles sung by the characters. The audience claps and sways to the beat. Those who lamented the omission of ABBA's famous song "Waterloo" are overjoyed to hear the encore and cheer the stage on.
The casting for the three heroines remained the same as in 2003, with actresses in their forties Park Hae-mee, Jeon Su-gyeong, and Lee Gyeong-mi, with Lee Tae-won from "The Last Empress." The three dad candidates are Park Ji-il, Sung Gi-yeon and Lee Jeog-yeol as Harry. Daughter Sophie and fiancée have all been newly casted.
Mamma Mia! runs until August 20 on Tuesday thru Friday at 7:30 p.m., and on Saturdays, Sundays, and holidays at 3:00 p.m. and 7:30 p.m. Weekend prices range from 30,000 won to 130,000 won. On weekdays, VIP and R seats are 10,000 won cheaper. All seats are on a 20 percent discount until August 6. Contact the Seoul Arts Center Opera House for more information at 02-577-1987.
Sue-Jean Kang sjkang@donga.com