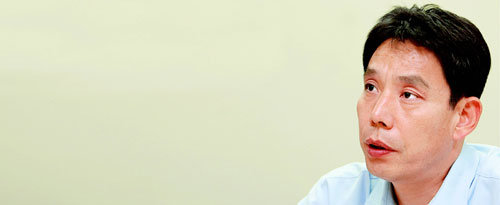 "I hope the football culture in Korea can take this offside controversy as an opportunity to mature."
Shin Mun-seon (48), a commentator specialized in football affiliated with the Seoul Broadcasting Station experienced the most humiliating event in his 20-year career during the 2006 World Cup. He was recalled back to Korea by his office in the middle of the tournament.
Things began to go wrong on June 24 when he was broadcasting the third match of Group G between Korea and Switzerland from Hanover. In the 32nd minute of the second half, when Korea was a point behind Switzerland, Xavier Margairaz, a Swiss midfielder passed the ball to his colleague on his right. The ball was reflected, however, by a Korean defender, Lee Ho, and was directed to Alexander Frei who was dashing forward and the ball was tipped into the goal in the next few seconds.
Although the linesman raised his flag, the referee Horacio Elizondo (Argentinean) ignored it and approved the goal, igniting the flame of the "offside controversy."
Commentator Shin argued, "The Korean players stopped their play after watching the linesman's action and then rushed towards the referee to complain after the goal was approved. Judging the situation coolly from a commentator's point of view, it was not an offside. I just said what I saw and thought."
Three days later, on July 27, he received a phone call from his broadcasting station. They told him that given the circumstances in which he was being criticized by the public as a traitor, they couldn't entrust their microphone in his hands anymore.
"I pointed out that the overall judgment by the referee of the match was biased, but it was not an offside in that specific situation. However, the Internet users cited that single phrase to accuse me as a traitor."
He said that he was more disappointed by the silence of other experts in football. According to his argument, even though it is understandable that ordinary fans ignorant to football rules could lose their temper, people engaged in football, who are responsible for speaking out what's wrong and right, were depressed by the fanatic atmosphere and stayed reluctant to announce their opinions. He cynically added that, "If a football expert made a wrong comment, he or she should correct it even if it's too late."
In addition, Sin contended that the Korea Football Association is putting the blame of their failure to proceed to the round of 16 on the referees so that they could avoid criticism. He said, "Chung Mong-joon, vice president of FIFA, has also incited the debate by making comments which seems to imply that the offside decision was incorrect."
Shin asserted that this mess originated from "excessive commercialism of the broadcasting industry and unfiltered reports by the Internet-based media." He said that "the insane competition between broadcasting stations for better ratings is the direct cause of this situation. Entertainers were jumping all around screaming and yelling as if that was an expression of love of football. They take football as something like an entertaining show, instead of the way it is. That's the status of football culture in Korea."
He argued that, "In other countries, they enjoy football itself. They don't try to turn it into a show as we do mobilizing entertainers. Football in our country is wrapped with an undesirable cult. Even in Germany, the host country of this tournament, only two channels broadcast football and they concentrate on analyzing the games themselves. Korean broadcasting stations should learn from them."
He said, "Ironically speaking, this could be good for us. Let's change our football culture into a healthier way. Let's organize a group of experts which can advise the public when rules are caught in debate or a knotty problem concerning football appears."
Jong-Koo Yang yjongk@donga.com