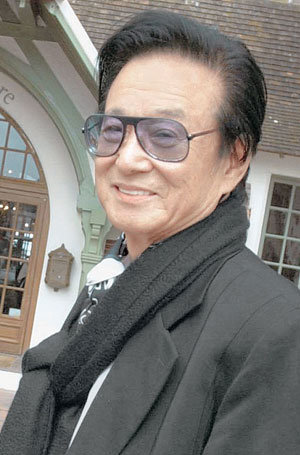 Former film director Shin Sang-ok, who passed away on April 11, had his last interview about his work at his home in Seongnam City, Gyeonggi Province, in mid-February just as his health started to deteriorate.
The interview was for the book "The Great Movieman: Shin Sang-ok," soon to be published by the Korea Moviemen's Welfare Foundation (chairman Chung Jin-woo) to celebrate the opening of the "Shin Sang-ok Memorial Hall," which is scheduled in the general movie studio in Namyangju, Gyeonggi, on June 24. Movie critic Park Hyun-shin of Chugye University for the Arts described in an interview the factors that made up the deceased "Great Movieman" as "passion, commitment, creativity, actress Choi Eun-hee, and the 'Shin Film'." The following is an extract from the final interview of director Shin which Dong-A Ilbo managed to obtain:
"Movies Should be Entertaining and Moving"-
― What do you think is the special quality that you had as a film director?
"I loved movies more than other people even when I was young. As I watched many movies, I thought about making ones that would touch and entertain people rather than focus on technicalities. Since I majored in art, I took special care on the composition of the scenes."
― Most of your films have both modern and pre-modern thoughts and ideas. You don't seem to criticize either of these eras.
"I used Confucian subject matters in my films quite often. To be honest, my intention was to venerate Confucianism, not criticize it. I was 'closing-up' on the advantages of Confucianism."
― Why did you take an interest in revolutionary characters such as Kim Ok-gyun, Daewongun, and Lee Jun?
"I tried to make many male-oriented movies. I am very interested in stories of men with strong determination and will."
― You had a film company in Hong Kong. Did you have the globalization of Korean films in mind?
"To some respect, yes. Also, since movies produced were not able to be released in Korea due to their failure of passing the inspection, I wanted to have my own film company so that I could make movies outside of Korea and then bring it home."
"Directors Should have Esprit of Art"-
― Do you have any favorite directors?
"I like Chaplin and Na Woon-gyu, William Wyler, and Fred Zinnemann. I especially respect Chaplin and Na Woon-gyu for their art esprit as they both managed to produce, direct, and act at the same time.
― Are there any recent Korean films that have caught your eye?
"'Shilmido' and 'TaeGukGi: Brother of War' were well-made. I liked their subject matters and the fact that the stories were about men. However, I thought it lacked reality a bit."
― What would you say are the qualities of a good director?
"I think directors should be able to master at least one thing, whether it is art, music, or literature. There should be 'esprit'."
Seung-Jae Lee sjda@donga.com