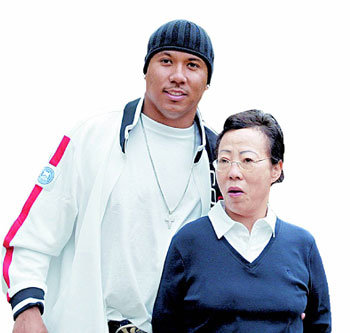 For NFL football star Hines Ward's mother Kim Yeong-hee (59), the media attention surrounding her and her son's visit has been bit too much. Visiting the country of her and her son's birth after 29 years, she had things to show her son, and foods she wanted him to taste, but all the attention the two have received the minute they arrived in Korea made any chance of privacy impossible.
According to Lim Sang-hyeok from Lee International Law Office, the legal representative of Hines Ward in Korea, Ward's mother wanted nothing more than to take her son to see Namdaemun market and have him taste some Korean food. But the media has made privacy for the two difficult.
Reading his mother's feelings, Hines Ward canceled some of the events on his visit schedule yesterday. According to Lim, Ward canceled his opening pitch of the Korean pro baseball season scheduled on 메April 8, saying that he feels badly about not being able to spend time with his mom, and that they were tired.
Ward wanted to cancel all his remaining scheduled visits, but decided to make an exception for his meeting with biracial men and women of Korean nationality hosted by the Pearl S. Buck Foundation at Olympic Park on April 8.
Lim also announced that the Wards might even cancel their planned trip to Jeju Island.
The competitive reporting methods used by Korean media outlets are the cause. Everywhere the Wards go, scores of reporters follow their every move. Any chance of privacy seems out of the question. Ward's celebrity status among Koreans makes his wish to travel and getting to know his birth country nearly impossible. Reporters flock to Ward's official appearances and personal outings alike.
Ward is also angry at the excessive commercialism at his expense. A lawsuit is its way against a Korean publishing company that released a book about Ward without his consent. Ward's mother Kim was especially angered by the false accounts in the book. "The book states I was beaten up and abandoned by my husband because I couldn't speak English. These are all lies," said the outraged mother. Ward plans to publicly warn the publisher and another company that acted as if it were his official representative at a press conference scheduled on April 11, the day of his departure. Ward rested at the hotel of his stay on April 7 and spent some rare private moments with his mother at the Yongin Everland theme park in the afternoon.
Jong-Koo Yang yjongk@donga.com zeitung@donga.com