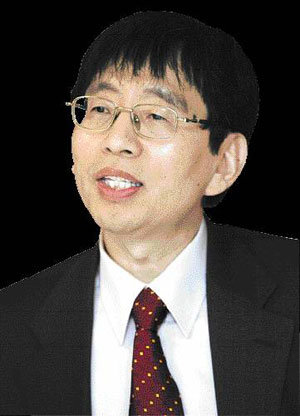 Citizens are often shackled when they are not acutely aware of being subject to the reign of a government. At the same time, a democratic government obtaining power through democratic procedure is not free from the criticism that it is incompetent.
If a government policy that citizens want is not delivered, people sometimes go to great lengths to see that it is. When that happens, the once-feared authorities can only look on helplessly at the demonstrations.
What is wrong with this picture? Seoul National University ethics professor Park Hyo-jong's recent book "Democracy and Authority" provides some painstaking retrospection on this topic.
His voluminous 900-page academic text searches for forms of proper democracy that respond well to the new understanding of democracy today.
The bottom line is that Park emphasizes the "peaceful name" of democracy, which prevents and mediates conflict, rather than its "jurisdictional name," which curbs evil.
When democracy stresses justice and principle, conflicts between parties with different criteria of what's "right" will inevitably arise. Also, in a pluralistic society, regardless of democracy, there will always be people who will oppose the majority opinion, no matter how meticulous methods may be in converging views. So instead of trying to protect justice and ward off evil, modern democracy respects differences and individuals.
Park calls this type of democracy a "modus vivendi," which means "provisional compromise," because it pursues not the best, but the second-best.
If so, how can democratic authority be established in modus vivendi politics where justice is not exclusive? Park answers this, saying, "In light of the fact that democratic authority cannot be conferred by justifying procedures only, one must gain the authority of a professional who can persuade the hearts of citizens."
The authority of a democratic representative is not in the monopolized authority that he or she owns, but the one that originates from its owner. This authority must not be a closed authority that is given upon inauguration, but an open one that is forever rejuvenating. Open democratic authority is not military one; like the authority relationship between doctor and patient, open democratic authority admits the professionalism of authority itself.
Park explains that when a government is stripped of this professionalism, the rights of the people are transmuted into the right to oppose. If the right to oppose in the past has consisted of weak resistance by citizens to illogical and exceptional situations, Park interprets this right as an aggressive response.
But the right to opposition is only meaningful in the context of minimizing ethical and political evil, not maximizing ethical and political good. If the latter represents a sated diner, the former represents the right of a "hungry Socrates" to monitor its base pleasures with suspicion.
Chae-Hyun Kwon confetti@donga.com