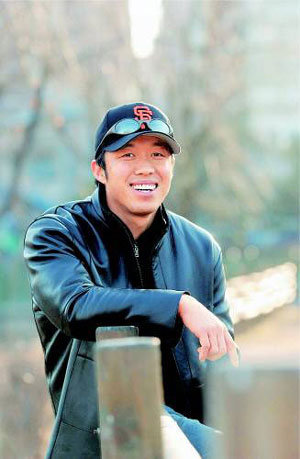 Even after being traded four times and released three times, 35-year-old Choi Ik-seong never gave up.
Choi is the ultimate journeyman of Korean Baseball. He started his pro career playing for Samsung (1994-1998), and then moved on to play for Hanhwa (1999), LG (2000), Kia (2001), Hyundai (2002-2003), Samsung again (2004), and SK (2005).
Choi has played for every pro league baseball club except for Doosan and Lotte.
His house in Daegu has stacks of uniforms and other objects from all the clubs he has played for. They're enough to open a personal baseball museum.
SK told Choi they would be releasing him last November 25. Choi spent several nights thinking about retiring, but he made up his mind that he has come too far to quit just yet.
He packed up his bat and glove, and called his friend Choi Hyang-nam (35) who signed with the Cleveland Indians of Major League Baseball after toiling for years.
The two friends understood each other. They joined the winter training camp of the Hanmin University baseball team, and from the end of December to early January, the two ran and trained in the woods of Hwaak Mountain in Gangwon Province.
They waited for offers, but clubs were still not interested.
"Where there is will, there also is a way. Going to Taiwan could be a way too," Choi Hyang-nam advised his friend.
Choi Ik-seong will accompany the Hanmin University baseball team to Taiwan on January 14. He plans to try out for Taiwanese pro clubs while training there.
If Choi makes it onto the roster of a Taiwan pro baseball team, it would be the seventh uniform of his pro baseball career. His friend Choi Hyang-nam will tag along with him at training camp in Taiwan.
"It's already a miracle that I've played for 12 seasons in the pros since I started as a trainee. I am ready to make another miracle," Choi Ik-seong said.
uni@donga.com