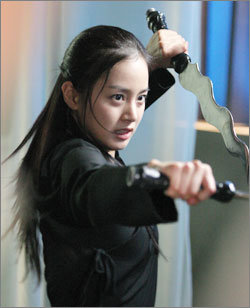 This summer, KBS's "nine-tailed fox" (a creature from Korean folklore famed for its cunning and ability to take on human form) is 24-year-old actress Kim Tae-hee. It seems like a fitting choice when one recalls her turn as the villainess "Yu-ri" in the SBS drama series "Stairway to Heaven." However, Kim Tae-hee's "nine-tailed fox" is neither villainous nor uncanny. In fact, it looks a lot like a really attractive woman.
Kim will play Si-yeon in KBS's "Lost Tales of the Nine-Tailed Fox" (directed by Kim Hyeong-il, written by Lee Kyeong-mi and Hwang Seong-yeon), set to debut on July 19. Si-yeon works as the curator of a museum of natural history in the "human world." But her seemingly ordinary exterior hides a savior who holds the key to resolving the long history of strife between the race of nine-tailed foxes (named "Millennium Foxes" for their 1,000-year lifespan) and the human race. In the world of the nine-tailed foxes, Si-yeon's job is to eliminate those of her kind who attempt to eat live human livers and who thus violate the rule limiting consumption of human livers to ones extracted from dead bodies. She's a warrior, fighting to stem the tide of conflict between the foxes and the humans by striking down nine-tailed foxes that threaten human lives.
"Si-yeon is a strong and attractive female character," says Director Kim Hyeong-il. He adds, "I cast Kim Tae-hee in the role for her intellectual yet 'cool' image."
We met with Kim on June 30, inside a van parked near her lodgings in Gwangju. She peered repeatedly into a mirror during the interview, as if uneasy about her makeup-free appearance.
Kim resembles a nine-tailed fox in that she's also minority--in the entertainment world. A senior at Seoul National University (Korea's equivalent to Harvard) majoring in clothing and textiles, Kim finds that her status as an "SNU student" makes her something of an outsider.
"At first, it helped to make myself stand out, but since then, it's become a drawback. Viewers see the 'SNU student'--which comes with its own set of prejudices--rather than the characters I play. But I'm an actress first and foremost."
Kim confides that the wire work involved in the action sequences, in which she wields double daggers, makes it tough, but that she has warmed to the character of Si-yeon.
"Often, the nine-tailed fox would be more human than the humans themselves. She's certainly not a monster. Si-yeon puts up a strong front, but inside, she's quite tender, which makes her a bit like me. In "Stairway to Heaven," there were moments when I couldn't understand Yu-ri's vindictiveness, but I'm acting now with a 100-percent understanding of Si-yeon."
Si-yeon is betrothed to Mu-yeong (Jeon Jin), whose mother is the head of the race of nine-tailed foxes (Lee Hui-hyang). But she finds herself conflicted over her feelings for a human named Min-u (Jo Hyun-jae), with whom she has been friends since childhood.
"Mu-yeong is reserved and charismatic, whereas Min-u is cheerful, with a boyish sense of humor. I prefer fun and easygoing men in real life, too."
Kim debuted on the SBS sitcom "Let's Go" in 2002, and has subsequently starred in several drama series including "Screen" and "Heungbu Strikes Gold." Although her experience is relatively limited, critics have been recognizing continued improvements in her acting ability.
Sun-Woo Kim sublime@donga.com