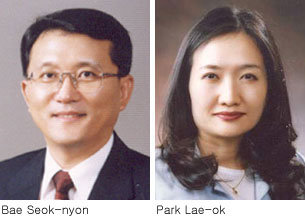 A medical team in the nation has found for the first time that male sperm has ingredients to kill ovarian cancer cells. As a result, some point out that male sperm may be the reason why sexually inactive women, whether single or married, are more likely to have ovarian cancer than sexually active women.
In addition, the finding sets the stage for ovarian cancer treatment.
Bae Seok-nyon, a gynecology professor at the medical school of Catholic University, and Park Lae-ok, a researcher, removed spermatozoon from sperm, extracted three kinds of mineral including zinc, and concentrated them. The sperm was found effective in killing ovarian cancer cells, they announced Sunday.
According to the team, the substance, called Cizar, was put into ovarian cancer cells and normal ovarian cells and experimented for 48 hours. More than 81 percent of the ovarian cancer cells died while only 37 percent of the normal cells died.
There was a report that sperm can control breast cancer. However, it is the first time that sperm is confirmed to be effective in preventing ovarian cancer.
Ovarian cancer, hard to be cured, is widespread among women in advanced countries. Recently, however, there are a growing number of such patients in the nation.
The result of the research is expected to be presented in an international cancer conference presided over by three institutions including the American Association for Cancer Research (AACR) and the National Cancer Institute (NCI). The conference will be held from Nov. 17 to 21 in Boston.
˝Cizar plays a pivotal role in making cancer cells kill themselves by increasing cancer controlling genes inside,˝ said Doctor Bae. ˝Among the ingredients of Cizar, zinc is being used for the treatment of leukemia, prostatic cancer, and rectal cancer,˝ he added.
Jin-Han Lee likeday@donga.com