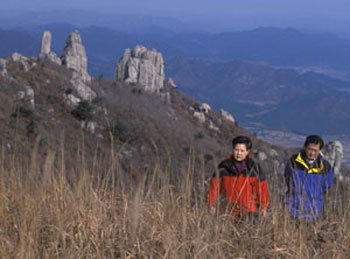 There is a TV program depicts the loneliness and sadness that those in their 50s or 60s feel. They are under pressure of early retirement in society and face a new crisis of divorce at home. The program "A River Flows in Everyone's Mind," scheduled to be on KBS2 from 10:00 to 11:30 p.m. on May 11 shows the story about a couple on the brink of divorce in relatively old age.
The drama based on Gong Ji-young's novel takes the form of road movie. The drama tracing a couple's car trip includes scenes showing the four seasons. The shooting continued for 6 months from last November. The program was supposed to go on the air in March, but the releasing was postponed because of orders to omit smoking scenes. It is said that to shoot scenes showing fallen leaves, they dyed gingko leaves yellow. Those leaves are sold as Chinese medicines at markets.
Gyeong-jae played by Jeon Moo-song works as a movie director at a broadcasting company. He is under pressure of early retirement. Soon-ae, his wife (Kim Yoon-keong), is a math teacher. Their son died while participating in students' movements for democracy in the 1980s. Gyeong-jae, who was absorbed in his work as a workaholic at that time, didn't see his son dying. Only his wife was present at her son's deathbed. One day, her wife suddenly proposed a trip. During their trip to Gangweon Province, her wife asked for a divorce, saying she wants to feel comfortable. The next day, the couple drove toward the East Sea, and he didn't talk about his retirement. The day after, he found his wife having left and he sent his letter of resignation to the company by mail.
The last scene focusing on yellow leaves in a small station where Gyeongjae was left alone could give a more strong impression on HDTV screen. Affectionate young and old couples who are barely seen at the corner of the scene make the conflict between the protagonists clearer.
"A Scene in which a truck behind the couple blew a honk and the couple allowed the truck to pass ahead symbolizes those in mid-life outstripped by a younger generation. You can enjoy this drama looking for visual symbols in it," producer Jang Ki-ho said.
Seung-Jae Lee sjda@donga.com