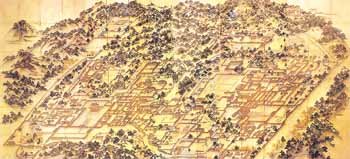 Donggwoldo, the national treasury 249, width: 584 cm height 273 cm, acclaimed as the best documentary painting in Korean art history, will be exhibited for public for the first time.
Lovers of Korean paintings will meet this masterpiece at a special exhibition, ``Cho-ui-sa-sok – The world of the documentary paintings in Chosun era," prepared by Korea University Ancient Museum. Exhibition will continue through May 5 to June 30 in Korea University Museum. Cho-ui-sa-sok means `courtesy of palace and customs of the literati.
Korea University Museum will also exhibit 88 documentary paintings including national treasuries of palace painting such as `Donggwoldo,` `Seogwoldo,` the painting of palace courtesy, `WansejaIphakdochup,` an ancient map, `Seokyongchundo,` and `Wonhengeulmyochongrieugwae` which illustrates the process of events with writing and painting, a historical documentary painting, `Imranchunseungpyongyangipsungdo,` various paintings about processions, and so on.
These paintings are a sort of documentary archive vividly picturing various ceremonies, parties, and customs of Chosun period.
Even only for Donggwoldo, the exhibition is enough to get attractions of the connoisseurs because the original painting has rarely been allowed even for the experts to access.
Donggwoldo is a realistic painting of the palace located in the east of Kyongbok Palace. It consists of 16 pieces and was painted by the artists of Dohwasoe, a department of fine arts, in the reign of Sunjo, 1824-1830. It illustrates in detail the beauty of the palace arrangement, the scene of magnificent palaces, harmony of man-made architectures with its surrounding nature, and the state of other auxiliary constructions. Donggwoldo is one of `the` masterpieces which succeed in harmonizing its realism and aesthetic beauty.
Lee Kwawg-Pyo kplee@donga.com