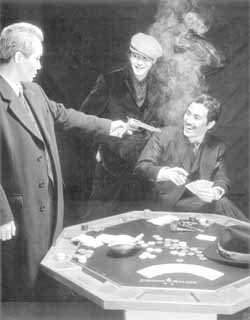 A celebrated movie starring Paul Newman and Robert Redford has been remade in Korea as a musical.
The winner of seven Academy Awards, including best picture and director in 1973, ``The Sting`` earned worldwide fame as much for its theme song, ``The Entertainer,`` as for its storyline and stars.
To be performed on the main stage at Sejong Center for the Performing Arts beginning Mar. 7, the musical will feature well-known film and TV actors like Choi Min-Soo, Park Yong-Woo and Doggo Young-Jae as well as musical veteran Im Sun-Ae.
According to GM Musical Company, producer of ``The Sting,`` the musical is reasonably faithful to the original story about a group of men who carry out an elaborate plan to fleece an underworld boss in 1930s Chicago out of thousands of dollars. One change was the addition of a new character, Eli, the daughter of one of the con men.
Actor Choi Min-Soo plays Gondorov, the role originally played by Newman, while TV actor Park Yong-Woo tackles Redford`s part, a confidence man named Hooker. Doggo Young-Jae appears as the gang boss and Im Sun-Ae and Park Eun-Suk share the role of Eli.
GM Musical Company said the musical features a number of spectacular set-pieces, including one involving the arrival of a train. Performances, which run through March 11, will be held at 4 and 7:30 p.m. Ticket prices range from 20,000 won to 70,000 won. For further information call 822-2237-6670.
Kim Gab-Sik gskim@donga.com