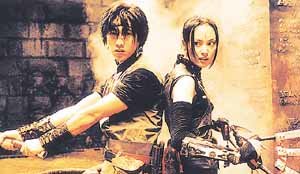 Special warfare command soldier Sung-Jin (Li Ming) is ordered to participate in an experiment by Dr. Chang, who developed a program that allows people to experience a former life. Chang`s daughter Nam-Hong (Park Eun-Hye), who went missing while experiencing a former life, resembles a woman in Sung-Jin`s dream.
It turns out that in a realm called Dilmun, Nam-Hong and Sung-Jin were a princess and a warrior who overcame their different backgrounds and fell in love.
Meanwhile, unbeknownst to him, woman warrior Shosho (Lee Na-Young) is in love with her fellow warrior Martin (Kim Ji-Mu). One day, Dilmun faces a crisis with the invasion of the expelled "Paxtu" tribes.
"Dream of a Warrior" is a 2.8 billion won sci-fi action movie featuring Hong Kong star Li Ming.
The editing is rough, but the director apparently tried to make a complicated story understandable to his audiences. The action scenes and special effects are impressive.
But the actors` performances and the overall direction are pedestrian enough to make the film a disappointment. Li Ming`s dialogue was dubbed by a Korean actor and the actor who plays Dr. Chang constantly sounds like he`s just reading the lines from the script. The attempt to explain "immortal love" through a scene involving Nam-Hong and Sung-Jin staring up at the stars is laughable.
Dilmun, the realm where people live out a former life looks like an ancient city but the princess sleeps in a hotel room that has modern clothes hangers and there is a modern dining table in the conference room where elders gather. These kinds of careless errors are hard to overlook. The film is directed by Park Hee-Jun and restricted to those 12 and over.