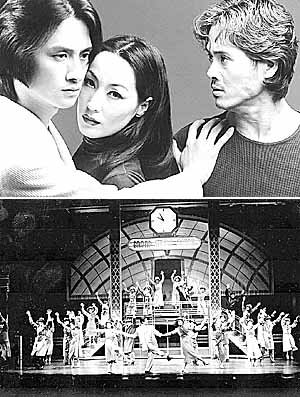 Different in color and style, two box-office hit musicals, ¡°Jesus Christ Superstar¡± and ¡°Goodbye 42 Broadway Street,¡± will play in Seoul as the New Year approaches.
¡°Jesus Christ Superstar,¡± depicting the seven days before Christ¡¯s death, will be staged in Haeorum Hall at the National Theater in Changchung-dong, downtown Seoul beginning Dec. 22.
¡°Jesus Christ Superstar¡± earned the then 23-year-old Andrew Lloyd Webber of Britain worldwide fame as a musical composer in 1971. Webber¡¯s musical hits include, among others, ¡°Evita¡± (1976), ¡°Cats¡± (1981) and ¡°The Phantom of Opera¡± (1986).
This musical features rock beats added to classical chords as it explores the circumstances surround Christ¡¯s death.
Musical star Nam Kyung-Joo, who showed his romantic and intellectual side in such works as ¡°Singing in the Rain¡± and ¡°West Side Story¡± will play the role of Judas.
Actress Lee Hye-Young, who temporarily left the stage to be with her family, will share the role of Mary Magdalene with Choi Joo-Hee, who performed in ¡°The King and I¡± on Broadway in 1996. The show continues until Jan. 13 and show times are 4 p.m. and 7 p.m. Tickets are 20,000-50,000 won. For further information call 02-762-6194.
¡±Goodbye 42 Broadway Street,¡± to be staged at LG Art Center in Yoksam-dong in southern Seoul from Dec. 21 to Jan. 14, is presented at the end of every year-end. Since the copyright to stage the play expires with this year¡¯s performance, ¡°Goodbye,¡± was added to the original title of ¡°42 Broadway Street.¡±
This musical tells the story of an unknown chorus girl who rises to stardom on Broadway. Through ¡°Pretty Lady,¡± a drama in the musical, the ups and downs Peggy¡¯s ascent are depicted.
Im Sun-ae, who played Peggie in the 1996 performance, and TV actress Roh Hyun-Hee share the role of Peggy. Park Chul-Ho plays Julian, while songstress Lee Jae-Young is Dorothy.
Also in the show are dancers Ju Won-Sung and Bang Jung-Shik. Show times are 8 p.m. on weekdays and 3 p.m. and 7 p.m. on weekends. Tickets cost 20,000-50,000 won. For more information call 02-501-7888.
Kim Gap-Sik gskim@donga.com