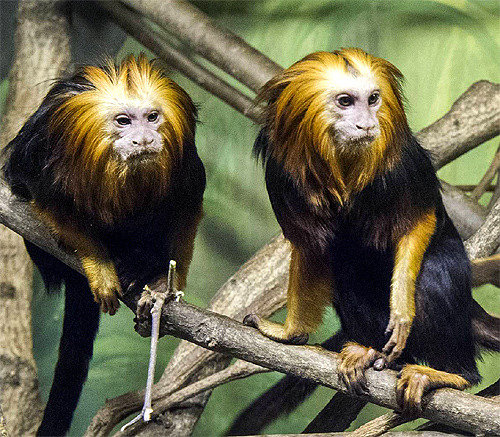 The Everland zoo disclosed golden-headed lion tamarins, which are considered highly endangered species, for public view on Thursday for the first time in Korea.
The golden-headed lion tamarins, which are only found in certain areas of the Amazon, is Grade 1 endangered species, with only an estimated 6,000 to 10,000 of them existing in the world. Despite the name derived from the golden hair like the lion's mane, they are small-sized monkeys, which belong to Callitrichidae family. Weighing 500-700 grams and standing 20-34 centimeters tall, the golden-headed lion tamarins have a tail longer than their body, which stretches 32 to 42 centimeters. The contrast of red hair, arms, and tail against their black body makes them look both colorful and adorable. Being chosen as the symbol of one of the Brazilian currencies, the tamarin monkeys are one of the most loved animals in Brazil.
The Everland zoo has brought four golden-headed lion tamarins, two males and two females, from a German institution with which the zoo established a cooperative relationship last year for its research on and preservation of endangered animals. The tamarins went through a three-month period to adjust in the environment and get familiarized with the new zookeeper before being disclosed to public on Thursday. Visitors of the Everland zoo can see the tamarin monkeys for free in an experience space inside the Panda World.
From Thursday to Monday, the Everland will hold a naming contest for its new families on its Facebook (facebook.com/witheverland). Prizes such as special safari tour tickets and baby animal dolls will be provided through a raffle.
Kyung-Hyun Nam bibulus@donga.com