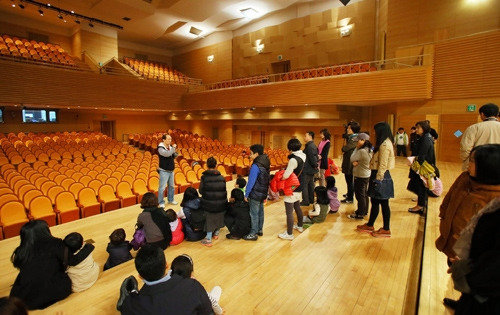 In recent years, theaters are receiving positive feedbacks by opening their stages and backstage to the public as tour programs. The program not only reached out to the general public, but also gained great comments from those who always wanted to get a glimpse of how the backstage were like.
Lotte Concert Hall, which opened last year in Seoul, provides its concert hall for free every Monday at 11 a.m. Visitors can sit on the auditorium and listen to the guide explaining about the structures and features of the hall. Visitors are showing satisfaction given that they can listen to the saved songs and structures of a pipe organ installed for the first time in a Korean concert hall.
"We expect these programs reach out further to more general audiences who cannot visit classic concert halls and still feel slightly overwhelmed by classic music," said CEO of Lotte Concert Hall Han Kwang-kyu. The free program will invite 200 participants on a first-come first-served basis, starting April.
Sejong Center for the Performing Arts will also run "Sejong Tour," which allows opens three stages starting May. Visitors can check for themselves the pipe organ at the main hall, backstage, and staff members.
Participants will be accompanied by a tour manager who will escort through the entire theater with explanations. Visitors can vividly experience the live air surrounding the powder rooms, orchestra pit, stage manager's reviewing desk and many more. If a rehearsal is held on the visiting day, participants will be lucky to watch them practice their verses. In addition, those who applied to the "Flexible Semester Course" can visit the stages of nine Seoul Art Company members of the Center and listen to lectures as well.
Since 2005, the Seoul Arts Center is currently offering a paid backstage visiting program with an explanation given by a stage technician. From now on, the Center will develop and run more programs customized to each age group, and provide professional tours to professional artists as well. 40 individuals or groups will be grouped into one group per tour.
Seongnam Arts Center, which holds walkthrough tours every year since 2007, is also running programs promoting audience manners and backstage tours. The program has become a hit for the past three years, attracting 2,500 applicants in average. Furthermore, visitors who bought performance tickets can also see musicals or opera actors rehearse.
The Goyang Cultural Foundation is also offering tours on March 22, April 5 and April 19. Visitors will be escorted by a guide who will give explanations while visiting Aram Theater, Aram Music Hall, Saerasae Theater, and Norumok Open Theater at Goyang Aram Nuri Arts Complex.
Dong-Wook Kim creating@donga.com