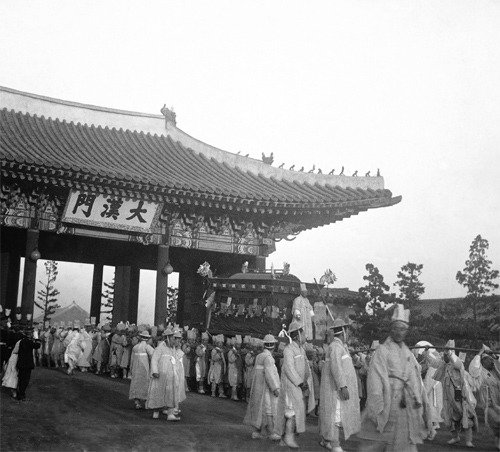 On March 3, 1919, the king's coffin where King Gojong lies departs Gyeongwoon Palace. In front of Daehan Gate people are lined carrying biers, and Japanese soldiers stand nearby. This black and white photo describes the tragedy of King Gojong who had to keep to himself the sorrow over the country's ruination until death. Another photo shows a funeral carried out in Japanese style not Korean.
What did Joseon people look like who stayed there when King Gojong was leaving? The Seoul Historical Museum is holding an exhibition called "King Gojong's Last Road," which illuminates the funeral of the king on March 3, 1919. The event marked in detail the tomb leaving Hamnyeongjeon to reach Hongreung in Geumgok.
The parade started Daehan Gate, passed Hwangeumjeong and carried our Japanese style funeral at Hoonryeonwon. After that it passed the Heunginji Gate and arrived at Hongreung. A photo in which U.S. journalist Albert Taylor took of the queue passing Heuginji Gate will be introduced for the first time in the exhibition. The photo shows historic buildings including Dongdaemun Maternity Hospital and Dongdaemun Church.
The event ends on April 9. For more information, visit www.museum.seoul.kr or call 82-2-724-0724.
Sang-Un Kim sukim@donga.com