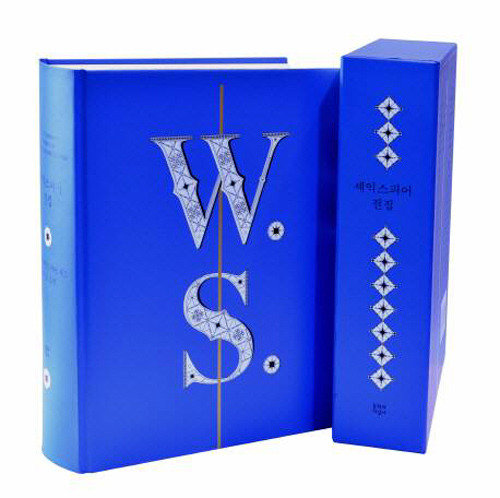 The publication of "William Shakespeare's full collection" as translation by Lee Sang-seop late last year was a significant cultural milestone that should be remembered. When the first edition of the Shakespeare collection translated by Kim Jae-nam was published in the 1960s, Korea became the seventh country in the world to have the legendary British writer's book collection published in its language. Several attempts have been made to publish a new edition since then, but Lee Sang-seop's translation has finally opened a new chapter.
Korea has ushered in the era of the "Oxford edition" that reflects the latest research achievements to replace the "Arden edition," which has been serving as the original copy for a long time. Especially notable in the new translation is the efficient presentation of natural feelings of Shakespeare's original verses and words in the Korean language. With the debut of the new edition, the Shakespeare collection has become independent from the influence of the Japanese edition by Shoyo Tsubouchi, the first to translate all of Shakespeare's plays into Japanese, to present the gist of culture in the English-speaking world.
It is essential that cultured people with sense in humanities read several of Shakespeare' works such as Romeo and Juliet, Hamlet and Macbeth that are popular among the public. However, this in itself is hardly adequate to advance the maturity of culture as a whole. If we are to dig a deep well, we have to dig it wide. The effort to fully figure out the entire situation of an object is the common characteristic of all great achievements that are made belatedly only after painstaking effort. The translated edition by Choi Jong-cheol and Kim Jeong-hwan, which will be finalized and published in the coming years, will also surely help Shakespeare's works stimulate the Korean language and culture to enrich them all the more.
Who would be thrilled the most by the publication of the collection? The first person that comes to mind is Min Yeong-gyu (1915-2005), an extraordinary figure in the Korean studies field. Being a historian, scholar of Buddhism, and bibliographer, he was famous for elegance and quality of his style. "It is my great joy to read in full the Shakespeare collection every winter vacation," Min would say. He apparently would have read the Arden edition and the Tsubouchi edition alternatively, but his students and next generations have the luxury of reading a Korean edition now. Groups of young Koreans who read the Shakespeare collection will likely emerge somewhere during every vacation. Likewise, the basis of Korean humanities will grow in tandem.
Written by Prof. Lee Young-joon, director of the Humanitas Institute for Liberal Education at Kyung Hee University