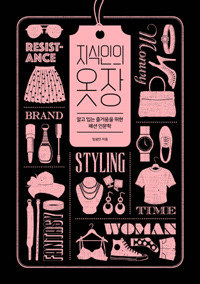 "What should I eat today" and "What should I wear tomorrow" might be the biggest concern of office workers. Are we really interested in fashion? We do not tell directly but it is an implicit mood in our society that we bother people who have keen interest in fashion, feeling that they are "showing off" too much. However, this book instructs us to say it out loud that clothes are for showing off and they represent a person's identity as well as self-confidence.
The author, who lectures on fashion under the title of "Fashion and I" at Kyung Hee University now, had many titles including costume stylist for movies and CEO at a fashion bag company. The author complied the book with several themes from the class and the themes were selected by students as they liked the most among many cultural studies in each semester.
The book starts the first chapter by defining what is "being stylish." No one pointed out Apple co-founder Steve Jobs for wearing black turtlenecks and jeans all the time. His style of intuition, practicality and simplicity, which he pursued for the whole of his life, were well reflected in his clothing. Likewise, the author stresses that a style does not come from wearing luxury items, but from having an interest in fashion.
The book also introduces detailed clothing coordination for readers who have difficulty in making a good mix and match for their clothing. For example, the author explains that horizontal striped dresses will make you look thin as they extend people's vision to the top and bottom. Another example is to wear sneakers with a formal suit. Such a look will make you look casual and stylish as sneakers neutralize stiff look of suit.
The author advises that you can truly enjoy the eyes of others around you when the stress on fashion is shifted to a thrill. That is why people who dress well always look confident and stand tall.
Won-Mo Yu onemore@donga.com