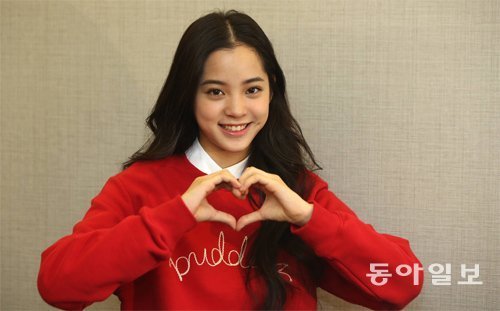 The Dong-A Ilbo met Taiwanese cellist Nana Ouyang Sunday in southern Seoul after the end of the Grand Mint Festival at Seoul Olympic Park. This is her first official visit to Korea, though she has been here several times for personal reasons.
Ouyang is a promising cellist. She started to learn cello when she was six years old. She began with piano and switched to cello when she fell in love with its sorrowful sound.
The 16-year-old cellist debuted at a National Concert Hall in Taibei in 2013 as a solo. The same year, she entered Curtis Institute of Music, a renowned music college in the U.S. with full scholarship. She started selling her debut album "15" composed of her favorite music pieces. Having performed some 40 times, she had tour concerts in eight cities of Taiwan, China and Japan this June. She is also planning a solo concert early next year.
"I took time off from Curtis after attending the school for two years, and am practicing by myself," Ouyang said. "I'm busy with movies and photo shots and performances, but I still regularly practice cello."
Ouyang was the main actress at the movie Beijing Live Story in 2014, and acted with Jackie Chan at the movie "Blooding Still," which will be released next year. She also appeared at a drama with China's popular actor Cheney Chen, and plans to star at a new movie in China in November.
The young cellist showed ambitions in activities other than music, acting and singing. As a fashion leader whom Chinese teens want to follow, she was invited as a Chinese representative at a fashion show of luxury brand Chanel while appearing at a Chanel ad that is reserved exclusively to top celebrities.
Several years ago, she used to listen only to classical music. Recently, she added K-pop to her music list. "I became acquainted to K-pop through the song of Taeyang, a member of Big Bang," she said while singing the lyrics of his song in Korean.
With all that talent and wishes, Ouyang still loved music the most. "Cello is my destiny," she said. "While I'm in initial stages in acting, I have many things I want to do with music. I want to perform more in the future and make people get more acquainted with cello and classical music."
김동욱 기자creating@donga.com