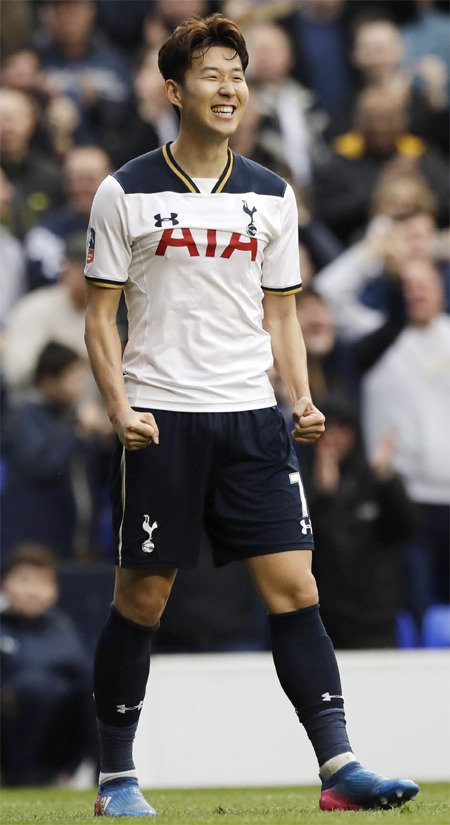 Tottenham Hotspurs forward Son Heung-min pulled off a hat-trick and an assist in the 2017 FA Cup quarterfinals against Millwall FC on Monday, trouncing them 6-0. The Daily Mail said, "Son Heung-min responded in the best possible way with three goal and silenced Millwall fans." It has been reported that the FA authorities are investigating the Millwall fans over their racist remarks.
Having joined the Hotspurs in August 2015, Son got his first hat trick on Monday since his EPL debut. This also makes Son the first Korean footballer to achieve a hat-trick in the EPL. When playing in Bayer Leverkusen, Son pulled off hat tricks two times in 2013 and 2015. "I am so happy that I've got my first hat trick for the Hotspurs. The third one was not accurate, but I was lucky as the goalkeeper made a mistake," said the Korean football player after the game was over. In the 47th minute when Tottenham were leading the game by 5-0, Son had a go, which flew head-on to the goalkeeper, who fumbled it into the goal line. Adding three goals in a single game, he also set a new record for the best Korean scorer in the ELP, finding a total of 14 goals (seven in the regular league, six in the FA Cup, one in the UEFA Champions League) so far.
Son, who has been struggling hard to get a berth in the starting line-up, appears to stand a better chance as a starter now that the team's ace and Son's rival Harry Kane was sidelined for ankle injury. "I am disappointed with Harry's injury, but I am very happy with Son. He can play like a striker," said Tottenham manager Mauricio Pochettino.
Yun-Cheol Jeong trigger@donga.com