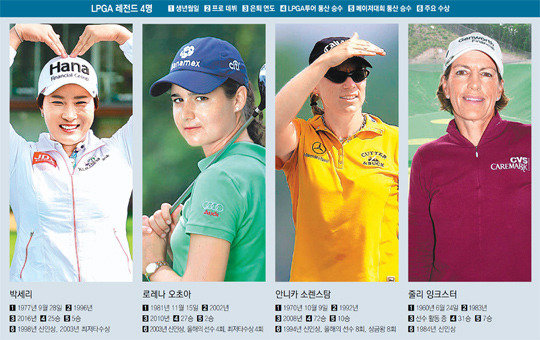 Their prize money of the Ladies Professional Golf Association (LPGA) is summed up approximately 63.98 million dollars (about 74 billion won). They won 155 games in total. Their names are Se Ri Pak, Lorena Ochoa of Mexico, Annika Sorenstam of Sweden, and Juli Inkster of the U.S.
Four women golf legends, who dominated their eras, will have the match of the century. LPGA tour announced on Friday that it will hold a big event match where four women legend golfers Pak, Ochoa, Sorenstam, and Inkster will contest in early May for two days in Mexico.
This match will be held in line with the LPGA Tour's Match Play Event of Lorena Ochoa Play that opens on May 4 in Mexico City GC. Four golfers will be divided into twosomes and they will match in a scramble format (a team member tees off from the starting hole and other member plays from the spot) on May 6 and again in best ball (each player hits their own ball throughout the round and the best score of the team is marked). Pairings for the matches are not decided yet.
Se ri Pak, who retired last year and stayed in Daejeon, said "I have so many great memories of competing with true golf legends. I can't wait to play again with these amazing women and am very happy to have this wonderful opportunity. She also said with smile, "Since I retired last year, I am not sure how well I can play these days. So I should start the training again."
All four players who will match in this special event won the LPGA Rookie of the Year. They are all Hall of Famers as well. Inkster first joined the club in 2000, followed by Sorenstam in 2003, and Pak in 2007. Ochoa's name will be listed in this September. "For me, it is a dream come true to play one more time with friends and champions like them," said Ochoa, host of the event. "The most exciting thing for me is to play again in front of my fans. This exhibition is something that I will never forget."
Jong-Seok Kim kjs0123@donga.com