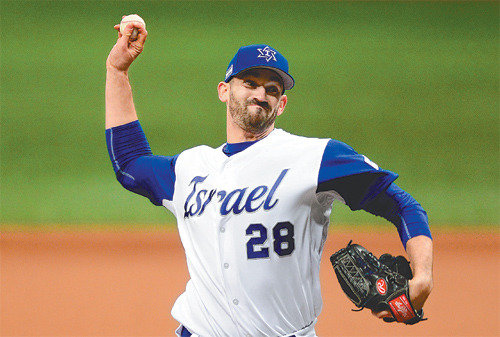 Drafted by the Philadelphia Phillies in the 10th round of the 2009 Major League Baseball Draft with a ranking of 317th. This was the only big league record for professional baseball pitcher Josh Zeid of Israel. From 2013 to 2014, he made 48 appearances as a relief pitcher of the Houston Astros, with a 0–1 record and a 5.21 ERA. He has played for eight minor league teams for nine years since his debut.
However, Zeid went three scoreless innings to lift his country to win in the 2017 World Baseball Classic debut, upsetting Korea, the host nation, in 10 innings. He also contributed to Israel's victory against the Netherlands with a 3-0 record by pitching two perfect innings. Team Israel will advance to the next round at Tokyo Dome with its mascot, The Mensch on a Bench.
Team Israel at the 2017 World Baseball Classic has been called a major underdog, especially because they landed in Pool A with South Korea, Taiwan and the Netherlands. Since Israel does not have a national baseball team, Team Israel has been filled with lesser-known American players. Several major league players were included, but Ike Davis of New York Mets played in only eight big league games during last season and Jason Marquis was a 38-year-old veteran who left the Cincinnati Reds in 2015.
But they have caused a sensation by beating South Korea, Taiwan and even the Netherlands with star players such as Andrelton Simmons (27, Los Angeles Angels), Didi Gregorius (27, New York Yankees) and Xander Bogaerts (24, Boston Red Sox) 4-2 to finish top of Pool A. The victory of players with Jewish heritage, who used to scatter across America, is creating the greatest twist of this year's WBC, reminding the sad history of people of Jewish descent.
Team Israel also hopes their success will serve as a chance to promote baseball, which is still not well known in Israel. "Many Jews in America as well as Israeli people know that we are representing the State of Israel at the WBS," said Jerry Weinstein, manager of the Israeli baseball team. "I hope that baseball will gain more popularity in Israel so that we can fill our national team only with Israeli players and without those with American citizenship."
Bo-Mi Im bom@donga.com