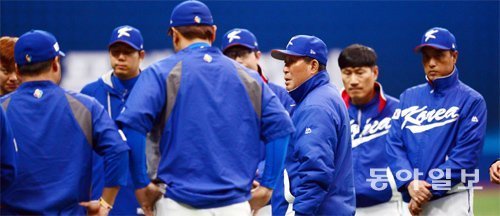 An outfield meeting was held at Gocheok Sky Dome by Kim in-shik, Team Korea manager for the World Baseball Classic (WBC) at noon on Wednesday, just before the official training session with players and coaching staff. As an unusual meeting convened by Kim, the 70-year-old manager rounded up the players in a circle and encouraged them to "play your best till the last game for the sake of junior players who will vie for the next WBC." Upon request from their veteran coach, the disheartened players trained with determination despite the recent consecutive losses.
Given that Kim rarely holds meetings during training sessions, the round-up has served as a shot in the arms of Korean national team players. After losing two games in a row with Israel and the Netherlands, the second round became an impossible mission, and is now on the verge of securing the tickets to the next finals. If Team Korea is beaten by Team Taiwan on Thursday and drops to the fourth place, the Korean national team must start from the preliminaries for the next WBC. This is exactly why Team Korea has to claim at least one win from Team Taiwan.
Among a total of 16 final contestants, top-12 countries are automatically qualified for the next finals. The bottom four teams will go through the preliminaries with relatively incompetent teams, such as those from Pakistan and Brazil. In a full league contested by 16 teams in four groups, nations with the most points earned within each group will be qualified for the finals.
"(If we are ranked the lowest) and have to start again from the preliminaries for the next competition, it will be a given fact that coaching staffs will be heavily burdened by higher pressure. To this end, I also urged the seasoned players to show their best performances until the last to set an easier path for the next players," said Kim told reporters after the training session. "I will not give up, and will spare no effort until the competition is over."
Still, Kim expressed his disappointment after losing two games in a row. "As a manager traumatized by a defeat at the extra inning play-off with Japan in 2009, I will be doomed by the fact that I failed to bring one more player to the home base when we tied 1-1 with Israel," he said with a bitter look. Nevertheless, he blamed the defeat to himself, saying, "I should take responsibility for the results, be it victory or defeat. Players should not be held responsible."
Kim who officially announced his resignation from the national coach position after the ongoing WBC also left a takeaway message to future Korean baseball stars, urging, "Progress cannot be made overnight in baseball. Players who benchmarked competitive teams during this competition will be responsible for sharing their experience with young players after returning to their respective clubs."
Hong-Gu Kang windup@donga.com