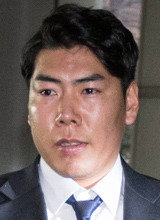 While put on probation, Pittsburgh infielder Kang Jung-ho is not out of the woods yet.
Kang Jung-ho, who was indicted of driving under the influence of alcohol, was sentenced to eight months in jail with a stay of execution for two years on the first trial held at the Seoul Central District Court.
Kang was indicted for hitting-and-driving a guard rail at Samseong Station crossroads while driving at 0.084 percent of blood alcohol content in late 2016. Moreover, Kang lost his driver's license under the "Three-strike Law" when the police found out two prior drink-and-drive records. Prosecutors asked for a fine of 15 million won, but the court disagreed, deeming the case serious enough to go to trial.
It is Kang's wish to return to the U.S. as soon as possible. Still, his visa issue needs to be cleared in advance, as he is required to obtain work visa to continue his Major League career. Local media outlet Pittsburgh Post Gazette reported that "it is also unclear what effect the DUI will have on his ability to obtain a visa."
As a Major Leaguer, Kang holds legitimate position to gain his work visa. Nonetheless, the U.S. is currently governed by the Trump Administration, which shows strong anti-immigrant sentiments. This means that visa application may not be streamlined unlike the past. Moreover, Kang's visa was already denied once when the former DUI blocked him from obtaining work visa and was put on trial.
Each Major League club already started their spring camps last month, and is busily holding exhibition games. Even though Kang is in his personal training sessions, individual training has limits. Even if he makes it to the American soil with his work visa, he still needs to complete the alcohol rehabilitation program, let alone the disciplinary action from the club and the Major League Baseball Commissioner's Office. All in all, Kang already lost so much due to his brief but wrong decisions.
Heon-Jae Lee uni@donga.com