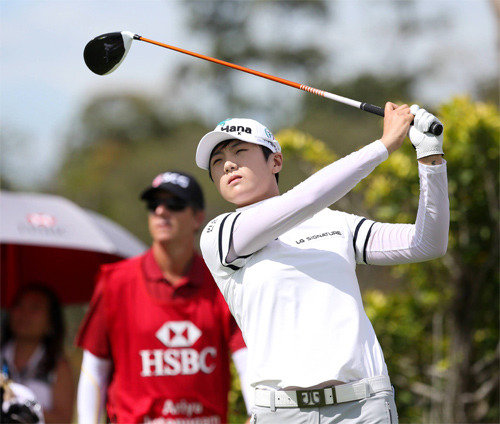 "World Ranking: 11. Prize money: 0." This is a part of Korean female golfer Park Sung-hyun's profile on the LPGA website.
The absence of prize money is attributed to the fact that Park was not a member of the LPGA tour until last year. Though she earned 70,000 dollars by participating in seven events as a guest player last year, the amount is not tallied into official prize money. On the very first day as an LPGA player, however, she boasted herself to be world class starting.
At the HSBC Women's Championship on the Tanjong Course at Sentosa Golf Course in Singapore on Thursday, Park finished the first round on 4 under par, 68, with seven birdies and three bogeys. Boasting a remarkable performance for a debutant, Park was ranked at 7th only two hits. Earlier in the game, Park led the group, pulling off five birdies in the nine holes, but lost a bit of momentum afterwards.
"It has been a while since my last game, so I was very nervous from the first hole. I am glad that my score turned out better than I thought," said Park in an interview after the round was wrapped up. This was her first appearance in an official competition since the KLPGA Fantom Classic in November last year.
Michelle Wie of the U.S. made eight birdies and two bogeys to shoot a six-under 66, leading the first round. Park In-bee, the gold medalist of the 2016 Rio de Janeiro Olympic Games, was tied at second place, making a head-start to the competition.
Heon-Jae Lee uni@donga.com