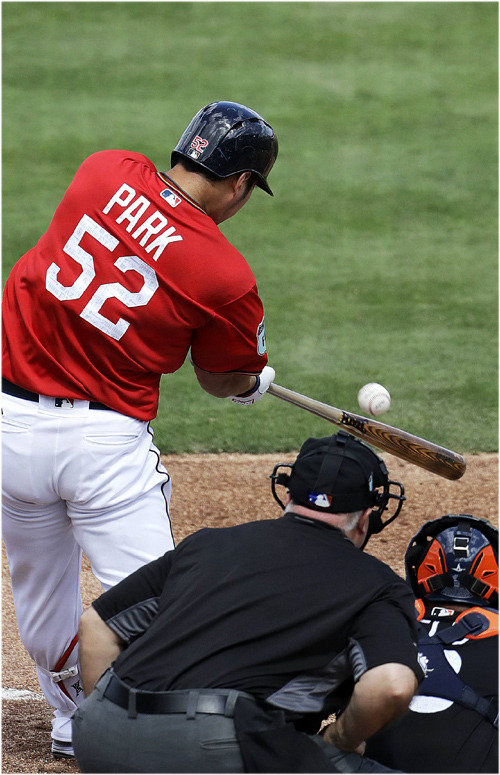 Park Byung-ho of the Minnesota Twins, is speeding up his race to return to the Major League. Unlike in the last year, he seems to have learned how to deal with fastballs even when his ball count is nearing strikeout this year.
At the Major League's exhibition game against the Miami Marlins at Century Link Sports Complex in Florida on Monday, Park swung a fastball of 154 kilometers (96 miles) per hour pitched by the rival team's starting pitcher Jose Urena. His two-run homer flew over the left-side fence in his first time at bat in the bottom of the first inning.
It was the second homerun Park hit in an exhibition game after an exhibition game on Saturday. He also swung a fastball of 150 kilometers per hour to hit the first homer at the time. Park was demoted to the Minor League last year as he posted a batting average of 0.105 (six hits in 47 times at bat) when the rival team's pitcher threw fastballs of 150 kilometers per hour or faster. He has his contract outright shifted to the Minor league this year.
The fact that he is hitting homers with his ball count at two strikes or higher is another positive sign that he may be able to return to the Major League soon. Park hit the homer with his ball count at two strikes and no ball on the day, and had his first homer with a ball count at two strikes and two balls two days earlier. He had a lackluster hitting average of 0.130 (17 hits in 131 times at bat) at the batter's box with two-strike or higher count last year.
Park has a batting average of 0.571 (four hits in seven times at bat), two homeruns and four RBIs in the recent exhibition games. The Major League's official website complimented Park by saying that Park Byung-ho is demonstrating his hitting and slugging capability more than anyone else at Minnesota in the early days of this spring camp.
Kyu-In Hwang kini@donga.com