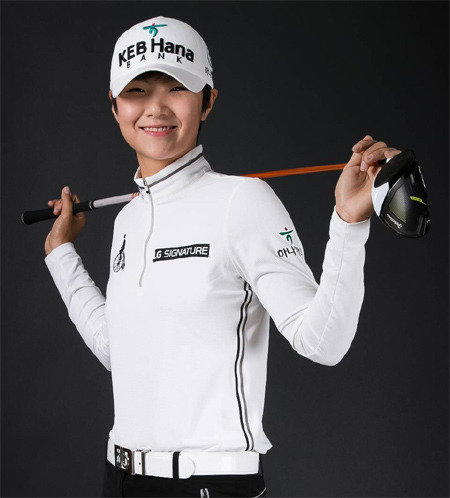 Park Sung-hyun has just started her voyage to become "the queen of the field" in earnest. Park is joining the LPGA tour after preparing for the opportunity for years.
Park is participating in the HSBC Women's Champions, which kicks off at New Tanjong Course at Sentosa Golf Club in Singapore on Thursday. Park dominated the Korean LPGA Tour last year, and is partaking in the LPGA event as the association's official member for the first time.
Park had singled out the Honda Thailand Championship held last week as her debut event, but had to wait another week to make her LPGA debut because she unexpectedly was not invited to this event. Park participated in seven LPGA events as an invited player last year and raked in a total of 700,000 U.S. dollars in prize money. As such, she is already drawing attention as an emerging big-name rookie player early on. Having arrived in Singapore on Saturday last week, she is exerting efforts to adapt herself to local weather and the course. "I am in good condition. I feel excited to think that I am now starting the season," the 23-year-old said. "I will be satisfied if I join the group of top 15 players in the tournament."
Park is taking part in an official LPGA event for the first time in four months since the Phantom Classic in November last year. For this reason, she must regain athletic sense in play more than anything. During her hiatus period, she exerted efforts to strengthen physical stamina while concentrating on short games in the company of her new coach Brian Mogg in Orlando, Florida. After completing her debut event in Singapore, she plans to participate in four tournaments in succession that will take place in the U.S. mainland.
"I will rise to No. 1 in world rankings in four years so that I can participate in the 2020 Tokyo Olympics," Park, who is currently ranking 11th in the world, announced as his long-term goal before departing Korea last week.
Jong-Seok Kim kjs0123@donga.com