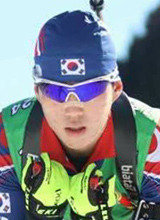 With promising Korean athletes for the 2018 Winter Olympics in PyeongChang, Korea has garnered a medal in the biathlon competition at the Sapporo Winter Asian Games in Japan. Kim Yong-gyu (24) won the bronze medal with a time of 39:58:07 in men's 12.5-kilometer pursuit competition at Nishioka Biathlon Stadium in Sapporo, Japan on the day.
Kim has become the first among the Korean Biathlon racers to win a medal in individual competitions at a Winter Asian Games event. Korea had acquired one silver medal and four bronze medals only at relay competitions in Winter Asian Games. Kim has also become the first Korean male athlete to win a medal in an individual competition at international biathlon events such as winter Olympics, Winter Asian Games and World Championships. Among the women, Anna Frolina (33), a Russian-born triathlon racer who had been naturalized as a Korean citizen, won the silver medal in the sprint competition at the World Championships last year.
Korea's male cross-country skiing team (comprising Kim Magnus, Hwang Joon-ho, Kim Min-woo and Park Seong-beom) ranked third with a time of 1:30:12:02 in the 30-kilometer relay race (four athletes race 7.5 kilometers each), which took place at the Shirahatayama Open Stadium in Sapporo. Men's alpine slalom skiing competitions, in which Chung Dong-hyeon (29) and Kim Hyeon-tae (27) were expected to target a medal, were postponed to Saturday due to gusty winds and heavy snow at Teine Ski Slope in Sapporo.
Attention is focusing on whether Korean figure skating will open a new chapter in its history on Sunday, the eve of the event's closing. Choi Da-bin (17), who is the lone lead with an overall score of 61.30 in the short program of women's single competition, will perform on the day. If Choi wins a silver or gold medal, she will enable the Korean figure skating community to achieve its best showing in the history of Winter Asian Games. Thus far, Korea has won a bronze medal each in women's single and ice dancing competitions at Winter Asian Games events.
Yun-Cheol Jeong trigger@donga.com