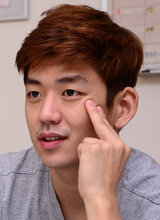 Badminton star Lee Yong-dae is highly likely to spend the year-end abroad, as he is scheduled to compete in the Chinese and Indian badminton leagues successively. It is the first time for a Korean player to make inroads into the Indian league, likened to the Premier league of badminton.
After four weeks of basic military training completed last weekend, Lee left Korea. After three rounds as the Chinese Guangzhou team member, Lee will fly to India and play for Mumbai Rockets for two weeks starting Jan. 3.
After retiring the national team in August after the 2016 Rio de Janeiro Olympics, Lee plans to play for both business team and overseas league team. Naming himself as the "badminton nomad," Lee said, "I am thrilled to take upon a new challenge and experience. I would like to learn more travelling abroad. I will do my best to adapt to new environments as soon as possible." With a 4-kilogram weight loss during his Army Training Center, Lee said, "I'm worried whether I can catch up, as I've been out of practice for a long time. I will be back in shape quickly through actual matches."
Lee had played in China, Indonesia, Malaysia. His glamorous court manners and handsome appearance gained a lot of popularity among local female fans, and created a Korean wave in the badminton scene.
As badminton is becoming a popular sports in India, more spotlight was given to the sport when P.V. Sindhu won a silver medal in the women's singles event of the Rio Olympics. "Ranked world's No. 1 in the men's singles, Lee Chong Wei raised 200 million won after playing in India for just two weeks," said Kim Hong-ki, secretary general of the Asian Badminton Confederation. "Thanks to aggressive investments from the government and private sectors, India is actively recruiting global badminton stars."
Among the six badminton teams in the Indian league, the Mumbai team, which Lee will play next year, won the second place last year. Others who will also challenge the Indian league include Koh Sung-hyun, Yoo Yeon-sung, and Sung Ji-hyun.
Jong-Seok Kim kjs0123@donga.com